Source: Reuters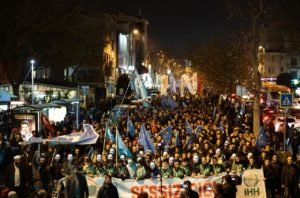 ISTANBUL (Reuters) – Thousands of protesters marched in support of China's Uighurs in Istanbul on Friday and voiced solidarity with Arsenal midfielder Mesut Ozil after the furore caused by his criticism of China's policies toward the Muslim minority.
Last week, soccer star Ozil, a German Muslim of Turkish origin, posted messages on social media calling minority Uighurs "warriors who resist persecution" and criticized both China's crackdown and the silence of Muslims in response.
Members of Istanbul crowd held up banners reading "Stop the cruelty" and chanted "Murderer China, get out of East Turkestan" and "East Turkestan is not alone", using the name that Uighur exiles use for Xinjiang.
The United Nations and human rights groups estimate that between 1 million and 2 million people, mostly ethnic Uighur Muslims, have been detained in harsh conditions in Xinjiang as part of what Beijing calls an anti-terrorism campaign.…Read More