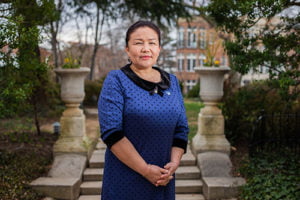 "Anyone who has been tortured remains tortured. Anyone who has suffered torture never again will be at ease in the world. Faith in humanity, already cracked by the first slap in the face, then demolished by torture, is never acquired again."-Jean Amery, tortured in Auschwitz.
On this day established by the United Nations to speak out against torture and to support the victims and survivors of it, Campaign for Uyghurs affirms that China is one of the main modern perpetrators of torture, unabashedly using horrific techniques to carry out large-scale ethnic cleansing of the Uyghurs. The complexities of the psychological impacts these atrocities have created and will continue to create are appalling. We need not say more than the words of but a few survivors themselves. 
"They made me wear what they called 'iron clothes', a suit made of metal that weighed over 50 pounds. It forced my arms and legs into an outstretched position. I couldn't move at all, and my back was in terrible pain…They made people wear this thing to break their spirits. After 12 hours, I became so soft, quiet, and lawful."-Kayrat Samarkand. 
"The policemen ordered her to disrobe and simply raped her one after the other, in front of everyone. While they were raping her they checked to see how we were reacting. People who turned their head or closed their eyes, and those who looked angry or shocked, were taken away and we never saw them again." "There were all kinds of tortures there…I saw people return from that room covered in blood. Some came back without fingernails."-–Sayragul  Sautybay 
"I begged them to kill me."-Mihrigul Tursun. 
The physical and psychological pain that China has inflicted can never be made right, but it can be prevented from being inflicted on more victims. Antonio Gutteres, U.N. Secretary-General, said that "torturers must never be allowed to get away with their crimes, and systems that enable torture should be dismantled or transformed." 
It's a nice remark, but we must contrast it with the testimony of Emma Reilly, who blew the whistle on the U.N. after the names of human rights advocates planning to attend a session were provided to China. She said, "We knew already that people coming from China and people whose families were in China faced repression for speaking against China's human rights record. We knew what the outcome of this was. The only reason China could be wanting this information was to intimidate them and their family members. This seemed to be opposite to the mandate of the U.N. Human Rights Council to actively save activists from being in danger."
The biggest perpetrator of physical and psychological torture is not only getting away with its crimes but is being rewarded for genocide with a seat on the U.N. Human Rights Council Panel. The United Nations is not just crippled by China's involvement, it is complicit. If this day is truly meant to honor victims, we must dismantle the system in question right now. Like Nazi Germany, the Chinese government must be brought to justice for its crimes against humanity.  
On this International Day in Support of Victims of Torture, Campaign For Uyghurs calls on the U.N. to answer the charges laid against it regarding compromising human rights advocates and to move to strip China of its seat on the Human Rights Council Panel. The unity of nations must be based on a moral purpose, it implies mutual responsibility, and as an unprincipled rogue state, does not deserve to participate.