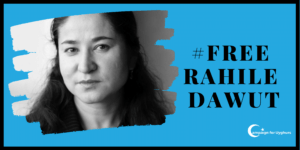 CFU Press Release
For Immediate Release
July 1, 2021 4:00 p.m. EDT
Contact: contact@campaignforuyghurs.org
www.campaignforuyghurs.org
Campaign For Uyghurs (CFU) unequivocally condemns the Chinese regime for its confirmed imprisonment of Dr. Rahile Dawut, a celebrated scholar of Uyghur culture who served as a bridge for her people and is a peaceful, non-political academic well-respected in her field and by many scholars abroad. This confirmation of Dr. Dawut's imprisonment comes at the same time as the Chinese Communist Party is falsely glorifying its 100 year reign of terror, and is another clear indication of the regime's genocidal intent towards Uyghurs.
On receiving the news, Dr. Rahile Dawut's daughter, Akida Pulat, Director of Outreach at CFU, responded saying "I feel infuriated to hear that my mother is in prison, while the Chinese authorities kept silent on this matter for more than three years. This sad news only strengthens my determination to speak up on the atrocities committed by the Chinese regime. I am sincerely asking for help from human rights organizations."
CFU Executive Director Rushan Abbas stated that she was "angered and saddened" to receive the news, continuing that "this is further evidence of the immense cruelty of the Chinese regime carrying out active genocide and their targeted attacks against Uyghur intellectuals. For Dr. Dawut, for my sister Dr. Gulshan Abbas, and for millions of others, we must continue to fight."
Campaign For Uyghurs stands with our colleague, Akida Pulat, and remains dedicated to exposing the truth of the Chinese State's genocidal crimes. The conscience of the world is stained by allowing this cruel regime to continue with its brutal crimes which are truly against all of humanity.
Read more about Dr. Rahile Dawut here.
To sign the petition calling for Dr. Dawut's release, click here.