CFU Press Release
For Immediate Release
March 30 2022, 5:00PM
contact@campaignforuyghurs.org
campaignforuyghurs.org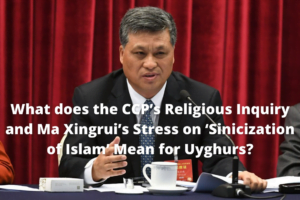 Campaign for Uyghurs (CFU) believes that the unanimous support of high-ranking Chinese Communist Party (CCP) officials, including Wang Yang and Ma Xingrui, for the 'Sinicization of Islam' in East Turkistan means that China will continue to carry out its genocide and crimes against humanity on the Uyghurs.
The term 'Sinicization of Islam' refers to the changing of Islam to be compatible with communist ideologies and the assimilation of Muslims in East Turkistan.
According to Xinjiang Daily, one of China's main media outlets in Occupied East Turkistan, Ma Xingrui, Secretary General of the Xinjiang Uyghur Autonomous Region's (XUAR) Party Committee, visited the Islamic Association and the Islamic Institute in Urumqi on March 25. During the visit, he stressed the need to strictly implement Xi Jinping's instructions on governing Xinjiang and adhere to the 'Sinicization of Islam.' The statement made is a message that the CCP will control religious beliefs. If the UN High Commissioner for Human Rights visits East Turkistan as agreed with China, it is clear that the whole process will be under the full control of the Chinese government. CFU issued a special statement previously expressing our concerns about the UN visit.
CFU Executive Director Rushan Abbas today said "We have highlighted and will continue to highlight the Chinese government's crackdown on Uyghur religious figures and the religious community. The scale and extent of the attacks on the religious identity of the Uyghurs continues to grow. It is highly unlikely that during the High Commissioner's visit, they will be shown the location of the 16,000 mosques destroyed in East Turkistan, nor will they show those that have been detained for simply owning a Quran or teaching their children Islamic knowledge."
CFU calls upon all Muslims to use their platforms, from the leaders of Muslim-majority states, to religious figures, Muslim organization and the general Muslim population to come together and defend your faith and your fellow Uyghur brothers and sister suffering genocide.