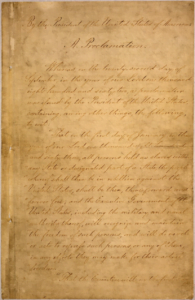 CFU Press Release
For Immediate Release
June 19, 2020 10:00 AM EST
Contact: contact@campaignforuyghurs.org
www.campaignforuyghurs.org 
On this day in 1865, the Emancipation Proclamation was declared to African American slaves. While it did not end racial injustice, this is a day to remember the important action that was taken and its implications. A policy change does not erase the pain and loss caused by  injustice and evil, but it is an important recognition of truth: that all men are created equal and therefore their lives are equally valuable. Campaign for Uyghurs acknowledges today the hard work and sacrifices of civil rights activists throughout history, and the continuing work that needs to be done in the United States to treat black lives as being equal and having equal opportunity to others.  We lament over the sinful behavior of man that led to the necessity of emancipating humans from the enslavement and abuse of other humans. May we continue to mutually support one another. 
Just two days ago, Uyghurs across the world celebrated the signing of the Uyghur Human Rights Policy act into law. This does not end the slavery and abuse of Uyghurs, but it is an important step that sets an example for countries across the world. There must be swift and continued unified action from the global community to act against the Chinese government's abuses. It is also our continued hope that companies across the world will be held accountable for deciding to profit off of the slavery and blood of Uyghurs. We cannot merely give lip service in the cause of human rights, we must likewise follow through with action. 
In addition to this law, legislation has been introduced in support of the goals of ending slavery. The Uyghur Forced Labor Prevention Act is another bill that deserves support both for preventing slavery in this context, but also in setting a human rights precedent that ought to be recognized by the international community as applicable in all contexts to prevent slavery even as it is disguised by other names. 
As we proclaim today our dedication to continuing to see that this law is implemented, and that other legislation is also supported, we likewise remain steadfast in our commitment to advocating for the human rights and democratic freedoms of Uyghurs and all people in the United States and all over the world. May the occasion of Juneteenth serve as a perpetual reminder of the sufferings of the black community, and the hope we have for working together for justice for all.