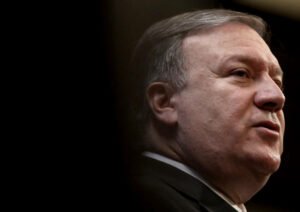 CFU Press Release
For Immediate Release
November 8, 2020, 10:00 a.m. EST
Contact: contact@campaignforuyghurs.org
www.campaignforuyghurs.org
On the Revocation of the ETIM Designation
Campaign For Uyghurs is delighted by the news of the important step by Secretary of State Mike Pompeo to revoke the designation of the East Turkistan Islamic Movement. This designation was used by China as a pretense for its massive genocide of the Uyghurs. Innocent people have been falsely linked by the regime to the ETIM movement for expressing their ethnic identity and religious beliefs. 
The integrity of this decision speaks volumes, and as the leadership of the Chinese regime has changed to a softer tone as it tries to suck up to what it views as the sure next U.S. administration, it is absolutely clear that despite any domestic political changes, the United States must continue with resolve on the same path to hold the Chinese regime accountable. 
While this action has been presented by many as a deliberate provocation to the Chinese authorities, we must be clear that the previous designation itself could be viewed as direct kowtowing to Chinese authorities, and an action that lent legitimacy to the brutal lies that the regime perpetrated, harming millions. This targeted genocide has been borne out of those lies. 
China cannot and should not be trusted as an international ally again. As the international community has watched it refuses to reform, refuse to treat other nations with fairness and transparency, and most notably, refused to treat human lives with the dignity that they deserve, it is our sincere hope that all will recognize the reality of how China has constructed its false narrative to paint an entire ethnic group as extremists while they have been merely seeking for decades to live with the freedom to practice their beliefs and live equally. 
Campaign for Uyghurs continues to remain committed to fighting back against the monstrous lies put out by Beijing, and we call on the leaders of the world to no longer fall privy to the whims of a genocidal regime. CFU Executive Director Rushan Abbas stated that "It is our hope that the new U.S. administration will continue the vital work of taking the reins of control from this authoritarian monster. It must be recognized  that the CCP has only continued its history of blatantly breaking promises while violating the human rights and conscience of the entire globe." No dialogue can be trusted while genocide is occurring. The United States must continue to stand as a true leader in the international community who stands for what is right and the values of humanity, necessary excluding the false "friendship" that China offers as a pretense for its terrors to continue.