CFU Press Release
For Immediate Release
August 30 2022, 2:00 PM ET
Rushan Abbas: rushan@campaignforuyghurs.org, (559) 375-3571
campaignforuyghurs.org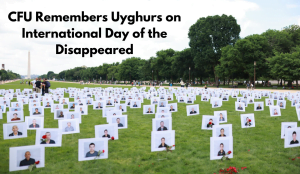 On today's International Day of the Victims of Enforced Disappearances, Campaign For Uyghurs (CFU) remembers those who the Chinese Communist Party (CCP) has attempted to erase. This genocide is directed at Uyghurs physically, psychologically and culturally. Millions of Uyghurs are systematically kidnapped into concentration camps, prison cells and trafficked through forced labor camps. This campaign of disappearances is part of the Uyghur genocide; a deliberate attempt to erase the very names of those who have disappeared from shared memory.
We must acknowledge how the Chinese state has become the primary perpetrator of forced disappearances. Ongoing genocide is being conducted by the CCP against Uyghurs on account of their ethnicity and religion. Simultaneously, it has utilized forced disappearances of Tibetans, Hongkongers, Chinese dissidents and Christians. Even though their deeds are carried out with full knowledge of the United Nations (UN), China is still welcome to shine on the global stage.
Executive Director of CFU Rushan Abbas said "The forceful disappearance of my sister is an oppressive, genocidal policy undertaken by the Chinese regime in order to destroy my people. Gulshan Abbas is an innocent victim of Xi Jinping's genocide and the crimes against humanity committed by his regime. I believe the international community and the greater world must do more to raise the case of innocent victims like my sister, and millions of others. It is impossible to ignore these gross injustices. Taking action against these atrocities begins with refusing to erase the lives of those who have been disappeared."
As the United Nations human rights chief Michelle Bachelet steps down tomorrow with no successor appointed and the Uyghur report still unreleased— it is imperative for the governments of the world, as well as the UN, to recognize their responsibility to hold the CCP accountable for genocide and crimes against humanity. China cannot be considered a reliable global partner while targeting innocent Uyghurs extrajudicially as part of its active genocide campaign.
Support Campaign for Uyghurs' activism by making a donation.