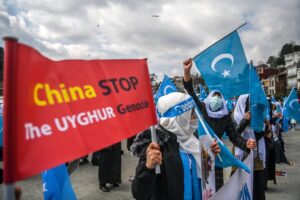 CFU Press Release
For Immediate Release
April 5, 2021 3:00 p.m. EST
Contact: contact@campaignforuyghurs.org
www.campaignforuyghurs.org
Today marks the 31st anniversary of the massacre in Baren. Campaign for Uyghurs (CFU) honors the memories of those innocent people, young and old, who lost their lives standing for the freedom and justice that Uyghurs and other Turkic peoples have been denied during the decades of oppressive brutality under Chinese Communist Party rule.
The bloody massacre on April 5, 1990 is yet another example of the CCP's suppressive, brutal tactics to silence dissent. During the short history of the CCP,  the rightful demands of the Uyghur people have not only been ignored, but their very lives snuffed out for daring to raise their voices.
The present genocide of Uyghurs and other Turkic peoples in East Turkistan is the culmination of decades of abuse by the CCP that have gone unchecked, and is a testament to the strong will and brave spirit of the Uyghur people who have continued to advocate for their rights to live and preserve culture, religion, and freedom. As further recognition of the genocide has come from Canadian and Dutch parliaments following the U.S. designation of genocide, and as Europe reevaluates the CAI deal with China in light of the retaliatory sanctions which included the European Parliamentary Subcommittee on Human Rights, it is clear that the hard work of activists is paying off, and the push forward must continue as countries which value democracy and freedom unite.
Marking the occasion, CFU Founder and Executive Director Rushan Abbas stated that "The memory of these brave individuals who laid down their lives for what they knew to be right inspires our entire community at present. We remember that justice is something we must all live for, even as the Chinese regime seeks to destroy us. May these somber events inspire us in our commitment to stopping this genocide."
As the Chinese regime seeks to destroy human dignity via their present genocide and crimes against humanity, we call on the international community to demand for justice not only for the innocent blood spilt by a regime that will stop at nothing to dominate the world and impose its brutal, corrupt barbarism on all peoples, but also to defend the future of this democratic and free world.
To see last year's press release marking the 30th anniversary of the massacre, please see here.
To make a donation to help CFU continue the valuable work of ending the genocide, click here.