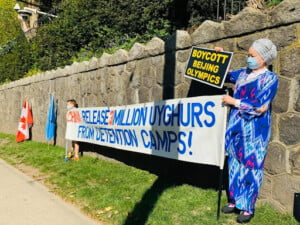 CFU Press Release 
For Immediate Release
August 27, 2021 3:00 p.m. EST
Contact: contact@campaignforuyghurs.org
www.campaignforuyghurs.org
Omarjan Matsedik, brother of Campaign For Uyghurs (CFU) Deputy Director Turnisa Matsedik-Qira, has passed away in the Chinese regime's detention camps. While the world continues to hesitate in confronting the Chinese regime, the CCP is continuing to silence the world and undermine the principles of freedom and democracy. Uyghurs are dying. As media attention to the Uyghur genocide has increased, there has been little focus on the realities that many have already passed away. As all conditions of genocide are being met, these now include an increasing number of deaths.
Remarking on Omarjan's passing, Turnisa stated that "My brother has always been healthy. There are so many unknowns surrounding our devastating loss. I have not been able to reach anyone for further details, but as he was detained as an innocent person, I am certain that his death was not a natural one." 
Appallingly, vocal critics of the Chinese Communist Party like Turnisa, who is a Canadian citizen, continue to have their family members back home targeted. As is the case for many CFU board members and staff, personal loss has become the normal experience of those who are speaking truth and confronting evil. 
Every case like this strikes fear in the heart of every Uyghur in the diaspora seeking news of missing relatives, or fearful for the safety of loved ones. One death in modern-day concentration camps is too many, and as the number of innocent people murdered by the CCP climbs, action to stop these atrocity crimes is still devastatingly slow. As Member of the European Parliament Ignazio Corrao said 3 years ago, "Concentration camps are back, there are no other words to describe what is happening in Xinjiang. … Colleagues, what else do we have to witness before taking concrete actions? Gas chambers? Mass executions?".  What is the international community waiting for? 
Speaking on the horrific news, CFU Executive Director Rushan Abbas stated "I am pained to observe the grief suffered by Turnisa and her family, and feel yet again that twinge of fear for my own sister. Every Uyghur is feeling the same, watching helplessly and praying that our loved ones can hold on for longer. All we can do is continue to speak to the realities of the genocidal crimes of the Chinese regime while the international community is rewarding the CCP with giving them the privilege of hosting the Olympic games!"
CFU recently launched the Berlin-Beijing Coalition in cooperation with The Peace Project, Jewish World Watch, and Jewish Movement for Uyghur Freedom, in order to highlight the need to stop the Beijing 2022 Olympics from continuing forward by learning from the worst parts of history.  The entire world community bears a responsibility to act to stop the horrors being suffered by millions of Uyghurs. 
On behalf of the Campaign For Uyghurs team, we extend our deepest sympathies to the loved ones of Omarjan Matsedik, and vow again that this death will not be forgotten or in vain. 
To get involved with the Berlin-Beijing Coalition, please click here