CFU Press Release
For Immediate Release
July 14th, 2021 12:00 p.m. EST
Contact: contact@campaignforuyghurs.org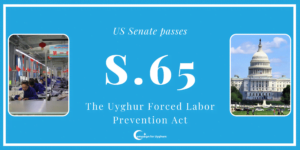 Campaign for Uyghurs (CFU) celebrates the passage of the Uyghur Forced Labor Prevention Act by the United States' Senate, a significant step toward serious action on the issue of the Uyghur Genocide. The House of Representatives should swiftly pass the bill, in order to guarantee action as quickly as possible. The act will begin to remove one of the driving profit incentives of the ongoing genocide, stopping the import of goods tainted by slave labor from East Turkistan. 
Campaign for Uyghurs' Executive Director Rushan Abbas said "I am excited to see this important action from the Senate, and hope the House will quickly follow suit. This is an excellent start to addressing this genocide in a material way. I am hopeful that by taking this action other nations will be inspired to issue similar legislation, showing international solidarity against the CCP's campaign of terror and destruction. We must demand that our supply lines not be tainted by forced labor, modern day slavery."
As we continue in our fight against the Uyghur genocide, we must remember that it is carried out through a complex system of interconnected operations. Policies like the double relatives program, placing Chinese men in Uyghur homes after the patriarch has been removed is only possible so long as forced labor drives the removal of men from Uyghur homes in the first place. We must continue to remove tenets of this atrocity piece by piece, until there is nothing left to stand on. A war against the Uyghur people is a war against universal human rights, implicating the entire world. 
Campaign for Uyghurs is especially thankful to Senators Marco Rubio and Jeff Merkley for introducing this important legislation. Senator Rubio in a statement said "We will not turn a blind eye to the CCP's ongoing crimes against humanity, and we will not allow corporations a free pass to profit from those horrific abuses," while Senator Merkley shared that "No American corporation should profit from these abuses. No American consumers should be inadvertently purchasing products from slave labor".
This action is the result of countless hours of work by activists in the United States, and is a proud moment of achievement for organizations who have been on the frontlines of this advocacy. This week, CFU has been working alongside such organizations in the nation's capital for international religious freedom week, making the passage of this bill all the more timely. The fight for the Uyghur people does not end here. The world is awakening to the growing threat posed by the CCP, and it is now time to continue to take swift, strong and material action. This is a moment in which we can all be encouraged in our efforts, and steeled in our resolve to continue marching toward justice.