CFU Press Release
For Immediate Release
April 6 2022, 1:30PM
contact@campaignforuyghurs.org
campaignforuyghurs.org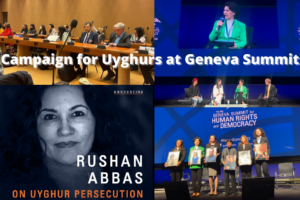 Campaign for Uyghurs (CFU) sends its utmost appreciation to the Geneva Summit for Human Rights and Democracy for giving the victims of brutal dictatorships a voice to speak on behalf of their voiceless people. The Geneva Summit is a major conference that highlights pressing human rights violations that require worldwide attention. It provides human rights leaders, activists, heroes, and former political prisoners with a special stage to testify about their individual struggles for democracy and freedom, while encouraging the global community to recognize brutal dictatorships and call for standing up against them.
The Summit was held around the main yearly meeting of the United Nations Human Rights Council, when foreign ministers meet in Geneva, to weigh in on serious issues on the international agenda. The opening of the summit was at the United Nations plaza on April 5th and the main event was at the Geneva International Conference Center on April 6th. The event was attended by hundreds of dissidents, victims, diplomats, journalists, student leaders and other concerned citizens. Thousands watched the online live stream as they heard the harrowing stories of each of the heroes.
The China Panel was moderated by Luke de Pulford, coordinator at the Inter-Parliamentary Alliance on China (IPAC), with speeches from CFU's Executive Director, Rushan Abbas, representing East Turkistan, Joey Siu, a Hongkongese-American activist, representing Hong Kong and Tenzin Tsundue, an Indian-born Tibetan writer and activist representing Tibet.
In today's speech Rushan Abbas highlighted her sister, Gulshan Abbas' case and said "Today, I fight at the cost of my loving sister's freedom! China's war on humanity is blatant. This is a war against women, a war against children, a war against original thought, democracy, and human values. ​​And yet, so much of the world remains quiet. China successfully silences international condemnation of its shameful genocidal crimes. Look at the UN! We have been pushing Ms. Michelle Bachelet–the UN High Commissioner for Human Rights–to release the report compiled on the Uyghur genocide for months now without success. Is Beijing controlling her? I demand her to meet with my sister Dr. Gulshan Abbas, my in-laws and many other high-profile cases if she goes to examine the situation that the Uyghurs and other turkic people are facing today." 
Summits like this should be conducted regularly to urge our governments and institutions to take more tangible steps to hold regimes like the Chinese government to account for their brutality in East Turkistan, Tibet and Hong Kong. If China continues on its path of destruction, the world's foundations of freedom, democracy, and human rights will be pulled to pieces. If policy makers and those in power sit idly by and do nothing today, then the next generation will suffer the consequences of an oppressive world.