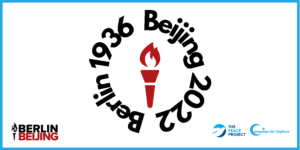 CFU Press Release 
For Immediate Release
July 9, 2021 5:00 p.m. EST
Contact: contact@campaignforuyghurs.org
www.campaignforuyghurs.org
Campaign for Uyghurs (CFU) is proud to announce, alongside The Peace Project,  Jewish World Watch, and Jewish Movement for Uyghur Freedom, the launch of the Berlin-Beijing campaign, a movement to push for a boycott of the 2022 Beijing Olympics. In 1936, the world was already waking up to the reality of the Third Reich's actions in Germany, and the genocide beginning there. Today, information on the genocide in East Turkistan is widely available, and new evidence is appearing day by day. In 1936, the world failed to act on the Olympics to counter Germany's ability to host the games. Today, we demand a different outcome concerning Beijing. At very least a diplomatic boycott of the Olympic games in 2022 should be a wake-up call not only for the regime of the Chinese Communist Party, but for the world. 
It is rare that as a community we get a second chance at such a specific test of our commitment to human rights and dignity. Then, we were presented with the opportunity to deny a genocidal regime the ability to showcase itself to the world, and legitimize its government. Today, we are being presented with the same opportunity. History is offered to us not as condemnation, but as instruction. We must strive to learn from our past so that we may build a future that reflects our values. Our values are not the destruction of families, the sterilization of women, or the detention of millions. Our values are peace, tolerance, and universal respect. 
As a result, a boycott of the 2022 Olympic games in Beijing is a necessity, to show the world that we will not engage with nations that treat human beings as the Uyghurs are treated today in East Turkistan. 
CFU Executive Director Rushan Abbas stated "Today, we begin a campaign that demands concrete action in the face of concrete evil. Uyghurs in East Turkistan are facing physical annihilation with a complete erasure of cultural and ethnic identity, and yet the world presses on with the plans for a global celebration of peace and unity, to be held in the very place where there is neither peace nor unity. We cannot sit idly by in stands and stadiums while within those very borders there are millions of people who do not even have the freedom to travel across their homeland, to hold their children, or to speak to their families. Campaign for Uyghurs was proud to be recognized this past week with the World Movement for Democracy's Democracy Courage Tribute, and sees this new campaign as part of the larger project of advancing democratic rights abroad. In 1936, we failed. We declared that we would never again allow such a failure. We must not fail again."
To aid in this campaign, activists and supporters can find the resources to engage in advocacy at the Berlin-Beijing website, where a petition is available, as well as actions to contact representatives across international governments. Organizations that wish to aid in this fight are welcome to join the coalition as well. This is the beginning of a demand to act, one that must be heard across the globe in the name of all Uyghurs whose lives are under threat. If we hope to build a future worth inheriting, we must confront the realities of our past.