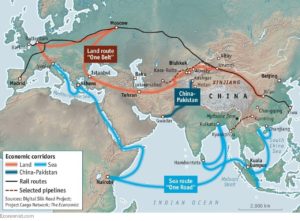 CFU Press Release
For Immediate Release
June 5, 2020 12:00 PM EST
Contact: contact@campaignforuyghurs.org
www.campaignforuyghurs.org
Today is a day for responsible global citizens to remember the importance of a global commitment to good stewardship of our world. It would remiss us to overlook the fact that the very same structures and ideology that lends to poor environmental practices often go hand-in-hand with human rights abuses. Campaign for Uyghurs reaffirms the reality that a government which views human lives as expendable or less than valuable will likewise have little respect for nature, the environment, and responsible leadership practices. 
The same drive that leads nations to decimate natural resources for financial greed can also lead them to discard human beings. This is the case for China's Belt and Road Initiative, which has brought immense destruction to the Uyghurs homeland and is directly linked to the genocide of the Uyghur and other peoples. It is incredibly convenient that ethnic cleansing, which the Chinese government has labeled as necessary to "combat extremism" has given the government unequaled access to the resources in East Turkistan.
As CFU Executive Director Rushan Abbas has previously stated, "China's Belt and Road Initiative put East Turkistan at the epicenter of the success or failure of Xi Jinping's blueprint for world domination. This is why China developed concentration camps."
We call on the nations of the world, and particularly Muslim nations for whom Uyghurs are their brethren, to remember that to cooperate with China's initiative means to be complicit in genocide. As we work for a better world we must both respect the environment and the peoples who call the areas of concern home, for the good of all humanity.