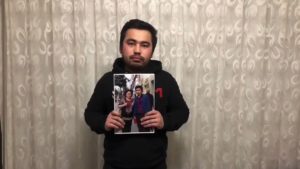 In a video testimony filmed for Campaign for Uyghurs, Jevlan Shirmehmet asks again for real answers from the Chinese government regarding the disappearance of his mother, Suriye Tursun.
Jevlan has lived in Turkey since the year 2011. He has been compelled to become a vocal advocate for his family members after they were forcibly disappeared. In February of this year, a Chinese embassy official in Turkey called him to tell him that his mother had been detained for aiding terrorists.
No further information or proof was given on Jevlan's mother's whereabouts. China continues to equate basic religious practices and ethnic identities with terrorism. In reality, Jevlan believes that his mother was abducted for visiting Jevlan in Turkey. While the Chinese government invests in many businesses in Turkey, and Turkey is one of China's largest trade partners,  China continually persecutes anyone who has traveled to Turkey or communicated with anyone there, handing out harsh sentencing for these "crimes".  Jevlan's mother and other family members are just a few of the hundreds and thousands of similar victims. 
In solidarity with Jevlan, his family members, and all those Uyghurs oppressed by the Chinese government, Campaign For Uyghurs joins him in calling on the Chinese government to provide truthful answers. Enough of this cowardly, despicable, racist evil perpetrated against an entire ethnic group. China has become the new Nazi Germany and more evil in its empowerment by the international community. 
You may watch Jevlan's full video here