It was our moms' turn to carry us when we were young, and now it is our turn to carry her when she gets old. But many Uyghurs lost their chance to carry their mother due to the genocide that is happening. 
Since 2017, China has detained millions of Uyghur in the concentration camps  (what the Chinese authorities have called "educational centers") or prisons. Here are the stories of three mothers, whose freedom and happiness were taken. Those mothers put every effort to make their children's dreams come true by sending their children to study abroad. They spent the past 20-30 years living for their children. When their children finally graduated from the top university from a different country and when they could finally live for themselves, the mothers were forcibly disappeared into the horrific concentration camps in the 21st century. 
This article is written after I had deep conversations with the children of those missing mothers. And as the daughter of the victim of the Uyghur genocide, I also shared my personal stories. During the interview, I heard many positive adjectives such as supportive, wonderful, caring, amazing, compassionate, kind, loving, etc. I had the pictures of three distinguished but equally great mothers. I honored those mothers by writing this article, and I hope I can bring more attention from the people around the world, the international community, and human rights organizations to save those mothers languishing in the concentration camps in China.   
A caring mother 
Suriye Tursun(Mother of Jevlan Shirmemet)
A mother's most generous gift is giving all the time and self to the family. Suriye Tursun is this kind of person. She has been there for her children from the moment her children came into this world.  Her last words to her son before she was taken into that horrific concentration camp were: "Dear son, I hope you graduate with good grades. I know you are smart. Also, please take good care of yourself. Please moisturize your face as it gets drier. You look old. I always want to see your bright face as I miss you so much."
Before she was taken, she asked her son to put on moisturizer every day, because she noticed wrinkles on her son's face. Sometimes, if you love someone, you will notice even tiny details. Family is everything for her. For her children, she has plenty of love and care to offer. Every time her children have a little illness, she would be extremely worried and take her children to the hospital. 
Just like many Uyghur mothers, the way that she expresses love is not only through words but also through doing the things that make her children happy. She made her son's favorite food Naren (Roughly chopped mutton, tomato, carrots, and onions traditionally mixed with the handmade flatbread). No chef in the world can ever hope to compete with her loved-filled meals. 
---
(Suriye Tursun with her son)
She possesses an important characteristic of an Uyghur woman, valuing the family. Whenever her relatives encountered difficulties in their lives, she would do her best to help. Her character can be clearly seen in her attitude towards the elderly in her family. Although her parents are very wealthy, she still often bought something for them. To her parents-in-law, she always treated them as her own parents. 
She was so eager to see her son when she had an opportunity to come to Turkey with a travel group that was organized by a Chinese travel agency. She never expected that her visit to Turkey would be regarded as a crime, and she was later arrested. " We grew up with the love of our mother. We fully enjoyed the love and emotional support from her. That is why her disappearance is unbearable for me. That is why I fight for her tirelessly every day." This is what Jevlan told me in a sad but calm tone.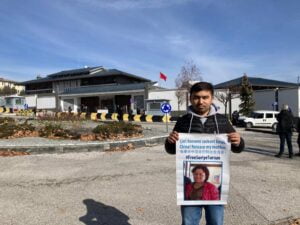 (Jevlan Shirmemet protesting in front of the Chinese Embassy in Turkey)
A hardworking, exuberant mother who is the role model for her daughter.
Rahile Dawut( Mother of the Akida Pulat)
She is a world-renowned scholar and a professor at Xinjiang University. But she is also a caring mother who has always been her daughter's role model. 
She left her family when her daughter was 2 years old because she had to go to Beijing to pursue her Doctoral degree. Her Ph.D. studies were riddled with difficulties, and she had managed to overcome them all because of her love for her field, and because she wanted to become a role model for her daughter. Watching her be so diligent and outstanding through the years made Akida (Rahile Dawut's daughter) proud to be her daughter. 
(Akida attending her mother's Phd graduation ceremony when she was 6 years old.)
She inspired and motivated her daughter to pursue higher education and achieve big dreams. When her daughter was a little girl, she said: "You need to go to Harvard University when you grow up.". Even though her daughter didn't go to Harvard as she expected, she had still taught her  the value of a good education. When her daughter was studying at the University in mainland China and asked her suggestions on the next steps after graduation. She said: " Don't be satisfied with your current degree. There is a bigger world outside. You are still young. I want you to keep learning as long as possible." Her daughter would not have been able to finish her degree at the University of Washington without the support of her mother. 
She was anticipating wonderful days in the future and that when she retires, she can move to a new place near the suburbs, stay away from the hustle and bustle of the city and unnecessary social gatherings, and focus on her research. Her daughter was expecting a bright future that when she finished her study in the US, she would go back to her hometown one day, and take care of her mother, just like her mother took care of her. But both of their life changed dramatically due to the genocide of Uyghurs. Rahile Dawut's daughter has lost contact with her mother since December 12, 2017, and has never seen her mother's face, listened to her mother's voice, and talked to her mother since that day. Her daughter believed she was detained in one of the concentration camps in China or arbitrarily given a ridiculous charge by the Chinese government. She became an activist tirelessly, speaking up for her mother day and night. She used to have many goals in her head like achieving a career goal, traveling the world, or studying for a Ph.D. or MBA in the top institution in the world, but now all of those seem unimportant to her. Her biggest goal now is to see her mother safe, free, and alive and to see her people stop suffering in the concentration camp.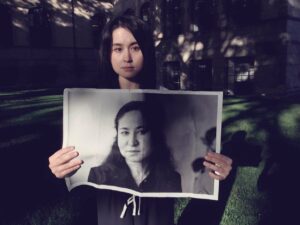 (Akida Pulat holding her mother's picture to make a testimonial video for her mother's disappearance.) 
A quiet, positive, and warm-hearted mother
Gulshan Abbas (Mother of Ziba Murat)
Kind is one of the words that describes Gulshan Abbas and she has such a beautiful soul. "I feel like my mom thinks there is no evil person in this world. She thinks all the people are like her, doesn't have any bad intentions or evil thoughts towards anybody.  She is just so kind to everybody, doesn't have any anger." This is how her daughter, Zamira Murat described her. 
Gulshan was a retired doctor, but she kept busier than a real doctor would be. She lived in a city that has the best hospitals and doctors, so her relatives from small towns and rural areas often came to her city for medical treatment. Gulshan would do everything she could to help them get the treatment they needed by contacting the hospital, finding a good doctor, and taking them to the hospital. She always told her children: "Respect others, and try your best to do good for others." 
Her dedication as a mother is impressive. Zamira Murat came to the United States at a young age and didn't have the opportunity to learn how to run a house when she was in her homeland. So when she got married, Gulshan tried everything she could to teach her daughter how to be a good wife and a daughter in law. Every time they spoke, she would remind her daughter about the littlest thing to make a big decision. Knowing that she had a loving mother by her side helped Zamira to get through her challenging new transition. 
The sacrifices that she has made as a mother are incredible.  After Gulshan got divorced, she gave up her personal life to take care of her two daughters. She did everything she could to make sure her daughters are happy and have what she needed.  Zamira recalled the time when she had her first baby. She had countless sleepless nights because her child needed to be held all the time. Gulshan would insist on letting her daughter sleep and she would hold the baby for hours so that her daughter could get enough sleep. 
(Gulshan Abbas and her youngest daughter Zamira Murat)
(Gulshan Abbas with her two daughters)
She is a compassionate, amiable mother who made helping others an important part of her life. A comfortable life in retirement is what a person like her deserves. But instead, she was sentenced to 20 years by the Chinese government for a crime that she didn't commit. Her family believes that Gulshan Abbas's lengthy sentencing is linked to the activism of her relatives in the US. China has long been targeting relatives of Uyghur activists by putting them into the reeducation camp or giving them lengthy sentences. So instead of taking care of newborn babies and toddlers, her two married daughters became activists and are tirelessly speaking up for their mother.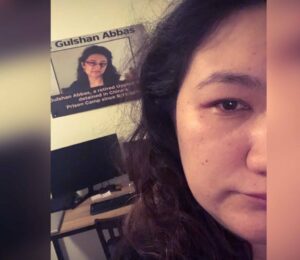 (Ziba Murat, Gulshan's oldest daughter, is missing her mother with tears and sorrow in her eyes.)