Source: THE GUARDIAN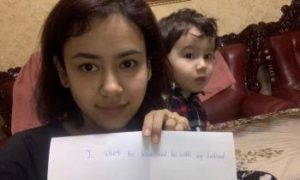 A Uighur woman who is reportedly under house arrest in Xinjiang says she was visited by Chinese police and threatened after her Australian husband appeared on the ABC's Q&A program on Monday.
Sadam Abdusalam asked Wang Xining – the deputy head of mission at Australia's Chinese embassy – on Monday why his wife Nadila Wumaier and the couple's two-year-old son, Lutfy, who is an Australian citizen, had been kept under house arrest and were not allowed to leave China.
Wang said that "the girl [Wumaier] with the son … told the government in Xinjiang that she would not like to come to Australia. This is the information provided by the regional government".
READ THE FULL ARTICLE AT THE GUARDIAN