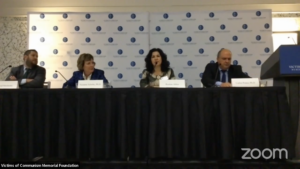 This week, our founder Rushan Abbas spoke at the Victims of Communism Memorial Foundation's Captive Nations Summit on East Turkistan and the Uyghur genocide. Her remarks on the complicity of silence and addressing the CCP's atrocities at the "Human Rights and the International Community" panel are shared here:
"Thank you for the opportunity to speak today. I must admit that it is heartbreaking to address you once again on this topic.
I have been trying to inform the world about the genocide facing my people. However, in the last five years, information surrounding the Uyghur genocide has become readily available. Nearly every major news outlet in the world has publicized horrific stories about the Uyghurs. We have heard testimonies of countless survivors, and we have seen the images.
It's an active genocide in my homeland today. I would like to take you through a closer look at the genocidal crimes themselves with some details:
Visualize this: Children are taken to state-run orphanages to be raised with communist ideologies forbidding their ethnic identity while their parents are in the concentration camps or enslaved in China proper. Visualize Uyghur women's bodies becoming a battleground of the genocide all while state actors publicly tweet insults to dehumanize them, calling them "no-longer baby making machines". Visualize them forced into marriages with Chinese men, afraid to reject them. If they do, they are labeled "radical Muslims, extremists" for refusing to marry non-Muslims. Yes, those women are facing rape, brainwashing, forced sterilization, forced abortion, forced IUD insertion, and other types of seemingly unimaginable abuse, and all of these are happening today while the world watches.
Our organization, Campaign for Uyghurs, has interviewed countless Uyghurs whose families have faced this genocide in a deeply personal way. We have spoken with children who cannot find their parents, parents who cannot find their children, and families cut off from their relatives.
The Australian Strategic Policy Institute has determined that the Uyghur birth rate has been cut in half in East Turkistan. By their estimates, this constitutes the largest drop in measured birth rates in available United Nations data. This is the very real materialization of years of effort to ensure a new generation of Uyghurs never comes to pass. But, because the perpetrator of these crimes against humanity is China, who has money and power, the world is silent!
That is our duty, to demand that the world live up to the promises it made in the last century. Throughout history, we have looked back on our failures and explained them away. It was easy for people to declare that there was not enough information, there was nothing to be done, there was no way we could know although they knew back then.
This is the 21st Century and it is the information era. We can't claim ignorance anymore. I was in London last month, where I testified for the independent Uyghur Tribunal. The victims gave testimonies around the world. They described how they were shackled, beaten, malnourished, while faced systematic rape, sexual torture, and forced sterilization in the camps. They spoke about the environment of fear and terror that the CCP has blanketed across the region. What I have heard there from witnesses, experts, and even a perpetrator himself, has confirmed that the situation is far worse than what we are hearing. Every word they spoke brought terror to my soul as my own sister, a retired medical doctor, is a victim of this genocide. I am advocating for my people here in front of you with the sacrifice of my sister's freedom!
We have been crying out to address ongoing state terror for years, and while we might pat ourselves on the back for making progress, Uyghurs back home are dying.
This summit is about the unified front captive nations must present in order to seek justice. It is an acknowledgment that international solidarity is the only path forward in the fight for human rights, and dignity.
The CCP is waging war on religion and free thought. They are waging war on freedom and democracy by keeping the countries pacified with business deals. The world is even rewarding Beijing with hosting the 2022 Winter Olympics. Yet as the stadiums are crowded with spectators, the once busy and bright streets of East Turkistan will be hushed and fearful. The camps will be crowded and dark.  How can we affirm a genocidal regime in this manner?
When my sister was taken by China, I had no idea so many U.S. companies are so shockingly complicit in such disappearances. It is one thing to read about the likes of Siemens, BMW, and Volkswagen using forced Jewish labor marched over from Nazi concentration camps over 75 years ago, but those same three companies are complicit yet again in their suppliers' use of forced Uyghur labor, making today's concentration camps a profitable venture. But, this time, the rest of the world's companies have joined in such complicity.
While Beijing extends its reach across the globe, we are also complicit. The international community continues to benefit from the CCP's genocidal crimes. China has created modern-day slavery with Uyghurs. Many of the companies that benefit from this slavery are brands you know well. The CEO of Nike just announced 2-3 weeks ago openly, that Nike is "Of China and for China" while making profit off of Uyghur slaves' sweat, tears, and blood.
Lately, I have wondered how we will explain ourselves, should we fail to stop this genocide. How will we explain to future generations that we allowed the Uyghur people to face total annihilation? Will we tell them that it was imperative that companies and governments be allowed to profit from the exploitation of Uyghur slaves? As we wait to act, the power of the CCP grows. Already their influence stretches across their borders to silence companies and individuals who attempt to speak out. Our rights as free-speaking democratic citizens are under threat, globally. Just this past week, we heard that Kodak pulled back images documenting the Uyghurs under pressure from China.
China is buying the compliance of the business world, mainstream media, the UN, the NBA, Disney, Hollywood, and famous celebrities who are usually very vocal against any sort of social injustice. Hollywood allows itself to be run by Chinese money. The conscience of humanity is at test today and the world is failing!
The Belt and Road initiative, Xi Jingping's signature project for world domination, is part of this plan. The Uyghurs are presently treated as collateral damage to this project, but it reaches much farther than that. It is a targeted system of investment that aims to place nations in debt and make them beholden to Beijing.
We must remember what the Uyghur struggle, and the fight to stop genocide, represents. It is the fight to ensure the freedom and democracy that the whole world deserves. The future of the world and humanity are hanging in the balance as nations seek to confront this global threat. A regime which would carry out active genocide in this matter is a menace to us all. We must stand together. The fight continues!"