Source: UHRP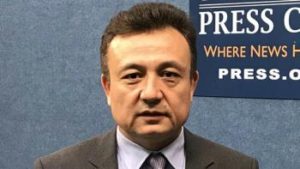 A prominent Uyghur rights advocate was openly threatened by family members of an official of the Chinese government on January 12. At a memorial service in Munich, relatives of Shohret Zakir, Chairman of the Xinjiang Uyghur Autonomous Region, confronted Dolkun Isa, President of the Germany-based World Uyghur Congress. They angrily demanded that he cease criticizing Mr. Zakir for his role in the human-rights crimes perpetrated against the Uyghurs.
In the presence of numerous witnesses, they told Mr. Isa that if he did not stop criticizing Mr. Zakir, the lives of Mr. Isa's family members in East Turkestan would be at risk. The World Uyghur Congress further reports that they attempted to physically assault Mr. Isa until stopped by the intervention of others present. These individuals are currently German citizens, having received political asylum.
"It is incredible that German citizens feel comfortable threatening a fellow citizen by openly stating that the Chinese government might carry out reprisals against his family," said Omer Kanat, UHRP Executive Director. "Perversely, these individuals had themselves been granted political asylum and are able to enjoy the rights of living in a democratic country."
Mr. Kanat went on to say, "this blatant threat also completely contradicts the Chinese government's recent propaganda blitz portraying the relatives of overseas activists as safe and happy."
As UHRP has documented, Chinese police and security officials routinely attempt to silence Uyghurs living abroad by threatening harm to their relatives still living in the Uyghur homeland.  UHRP's 2019 report, Repression Across Borders: The CCP's Illegal Harassment and Coercion of Uyghur Americans, calls on the U.S. government to take effective steps to deter and impose consequences for these acts that break federal law.
Even before the massive build-out of concentration camps for Uyghurs in spring 2017, the long arm of police-state repression created fear and anxiety for Uyghurs across the globe, including in Europe, North America, and Central and South Asia. See UHRP's November 2018 report, The Fifth Poison: the Harassment of Uyghurs Overseas.
For Uyghurs abroad, this kind of intimidation constitutes a triple victimization. Uyghurs are currently suffering agonizing mental trauma due to the disappearance, detention, torture, or death of their family members in the Uyghur homeland. They suffer intense anxiety due to the climate of fear created by the Chinese government, even in free countries. And they suffer violations of their own rights and freedoms guaranteed under democratic constitutions.