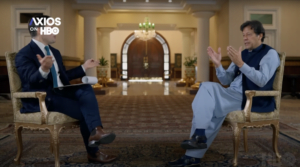 Dear Prime Minister Imran Khan,
Your recent remarks on the Uyghur Muslims in your interview with Axios' Jonathan Swan on June 21st have left me frustrated and heartbroken, as a sister of a victim of China's genocidal policies. I have watched you defend the Chinese Communist Party and their authoritarian regime for years now, all while they commit genocide against the millions of Uyghur Muslims of East Turkistan, your brothers and sisters in Islam. Your refusal to condemn the clearly horrendous crimes of the Chinese regime against your own faith only goes to show how powerful the CCP has become, and how deep their pockets are. 
At times, you have been called the defender of the Muslim world, and it is true that on many occasions you have spoken out as the voice of the Kashmiris, the Rohingyas, and most recently the Palestinians. And yet you remain silent to the suffering of your Muslim neighbors you share a border with, repeating CCP talking points. What China is doing against the Uyghur Muslims is far beyond Islamophobia; it is an active war on your religion. 
According to WIO News, an internal assessment done by the Pakistan government has found that the people are upset over the treatment of their Uyghur brothers and sisters by China, and in particular religious journals called it "technological slavery". Despite the calls from the Pakistani people, whom you were elected to represent, for you to address the Uyghur genocide, you have remained silent.
This genocide will not end here. As China wages war upon the Uyghur Muslims, they are attacking Islam as a religion under the pretext of a "war on terror". The CCP's classification of Islam as a mental illness to be eradicated, and their systematic destruction of mosques, should be an outrage to every Muslim nation on earth. Yet, the CCP has compelled nations to silence with the promise of investment and support. You yourself chose to thank China for being "friends with Pakistan". Don't you feel what you have said is a betrayal of your faith? How can you watch your Muslim brothers and sisters be tortured for their belief in Allah, and sit silently? To do this at all is a crime, but to do it for profit is a moral stain.  If your wife, Bushra Bibi, had to share her home and her bed with a male CCP official under their "Pair Up and Become Relatives" program, would you still defend China, the way you are doing now?
What is even more disturbing is that your government has been sending back Uyghurs who fled the genocide in East Turkistan to Chinese authorities. These Uyghurs will surely be sent to concentration camps and disappear, like the millions of Uyghurs before them who were not able to escape in the first place. The Pakistani government has willingly aided and abetted the orchestration of genocide.
The Uyghur Muslims are broken by a lack of support from Islamic countries, but the Muslim community is also a victim of China's massive campaign of lies. As people are educated about what is happening to us, we hope that they will stand with us. We despair for Muslims across the world, and especially Pakistan, where building strong ties with China makes their own shackles. China's use of debt-trap diplomacy should be a warning, as well as China's track record of buying and bullying its allies. While today, China may seem a friend to Pakistan, there is no doubt that what is happening to East Turkistan will happen in Pakistan. Today, the Uyghurs, but tomorrow, the Muslim world will be at threat. 
Rushan Abbas
Founder & Executive Director
Campaign for Uyghurs