CFU Press Release
For Immediate Release
February 04, 2022 15:30 EST
Contact: contact@campaignforuyghurs.org
www.campaignforuyghurs.org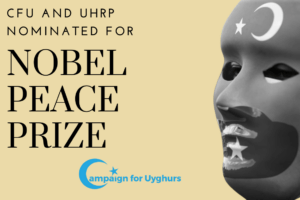 The entire staff, board of directors, advisory board members and Rushan Abbas, Executive Director of Campaign for Uyghurs (CFU) are exceedingly grateful to share this honor with the Uyghur Human Rights Project in being nominated for the Nobel Peace Prize for 2022. The Prize recognizes those who defy powerful interests and regimes to end genocides and other human rights atrocities. It is a great honor to be even considered among those brave recipients and nominees. This opportunity also provides an expansive platform to further inform the world on the genocide facing the Uyghur people, and what is needed to bring it to an end.  CFU expresses heartfelt appreciation to all of our supporters. 
Abdulhakim Idris, one of the founders of CFU and author of "Menace: China's Colonization of the Islamic World and Uyghur Genocide" said "This is a true recognition for all of the Uyghur organizations and advocates for their years of tireless hard work. It is not lost on me that this nomination comes on February 4th— the opening of the Beijing Olympic Games. As the Chinese regime continues their atrocity crimes in East Turkistan, they put on a show for the rest of the world, a mask of prosperity and cooperation. They even went as far as to make an Uyghur athlete the final torchbearer in a thinly veiled attempt to demonstrate China's so-called 'ethnic harmony.' We are extremely grateful to be nominated by representatives Tom Suozzi (D-NY) and Chris Smith (R-NJ), and we will continue our fight against genocide."
CFU wishes to sincerely thank those who have put forth these two organizations for nomination. Rep. Tom Suozzi and Rep. Chris Smith are true friends to the Uyghur people. Without their support, the cause would suffer greatly. It is with pride and admiration that we count them among our allies in this fight for the basic human rights of Uyghurs in East Turkistan. 
Representative Suozzi said, "Put simply, the Chinese Communist Party has committed genocide against the Uyghur people. For years, these atrocities went unnoticed by the public eye. But through the heroic work of the Uyghur Human Rights Project and the Campaign for Uyghurs, and countless others, they brought this genocide front and center for the world to see. Let us never forget the words spoken by Dr. Martin Luther King, who was jailed nearly thirty times for his activism and trumped-up charges, when he said, "the greatest tragedy is not the brutality of the evil people, but rather the silence of the good people."
With February 5th being the 25th anniversary of the Ghulja Massacre, this nomination for an award standing for humanity is symbolic. The peaceful demonstrators of Ghulja who were killed in the regime's brutal crackdown against dissent and calls for justice and equality. February 5, 1997 is a date seared into the collective memory of the Uyghur people. On this day, thousands of Uyghur citizens of East Turkistan marched against racial discrimination in the streets of Ghulja to call for human rights and democratic freedoms. As a result, Chinese police opened fire, massacring innocent people who were peacefully protesting, before arresting 1600 or more civilians for their participation. Hundreds were later executed. 
We stand alongside refugees of East Turkistan around the world, those forced to leave home and escape an Orwellian nightmare. We thank our grassroots partners and young Uyghurs, many in high school and college, who take up the call to action to challenge the Chinese regime, and to help stop its atrocities. CFU will continue to fight for the rights and freedoms of Uyghurs and be the voice for the voiceless people, especially the Uyghur women in East Turkistan whose bodies have been the battleground of this genocide. 
As the Olympics are underway, CFU urges all to take action to help end the Uyghur genocide. You can do so by signing petitions calling on AirBnB, Coca-Cola, and Procter & Gamble to end their partnership with the Olympics and by joining the #IWillNotWatch movement and boycotting broadcasters by refusing to watch the Winter Olympics.
Please donate and support Campaign For Uyghurs' continuous work and stand up against the CCP's genocidal acts, abuses of power, and crimes against humanity.