Source: Washington Post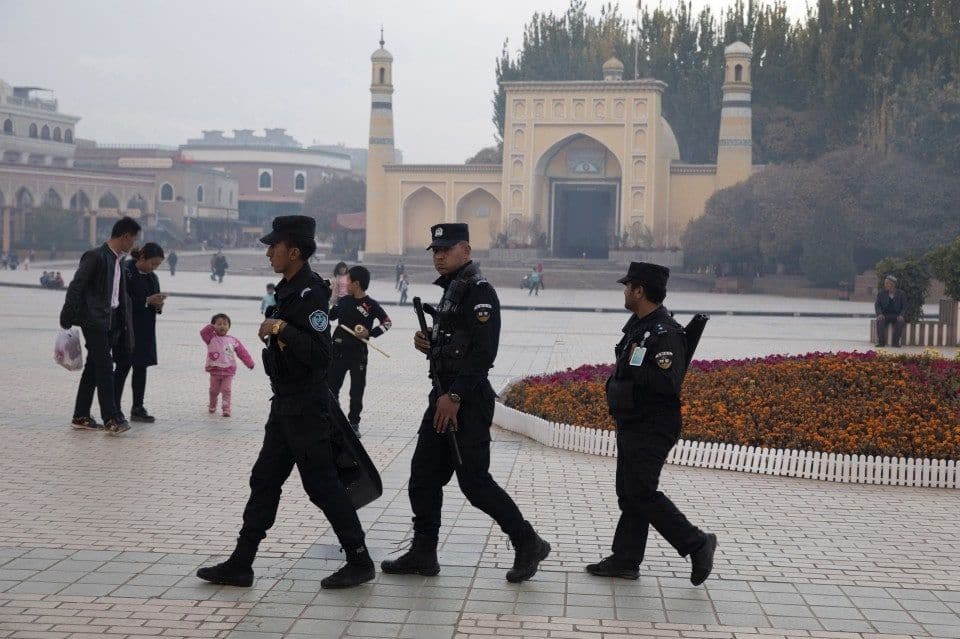 Uighur security personnel patrol near the Id Kah Mosque in Kashgar in China's Xinjiang region in 2017. (Ng Han Guan/AP)
Rushan Abbas is a former Uighur service journalist with Radio Free Asia.
The Chinese government has imprisoned about 1 million people, without any pretense of trial, in "reeducation camps" in the country's far west. It is now clear that this is part of a huge campaign to silence and intimidate the local Uighur population — a group to which I also belong (though I have lived in the United States for the past 29 years). The scale of this effort is extraordinary: Chinese security services are using sophisticated cameras, facial-recognition technology and DNA samples to keep track of the entire population.
Americans and Europeans are only just beginning to wake up to the astonishing extent of China's new gulag. But for me, this story is all too personal. My 56-year-old sister, Gulshan Abbas, lives in Urumqi, the capital of the Xinjiang Uighur Autonomous Region (or East Turkestan, as we refer to it). Her two daughters live in the United States. They kept in touch with their mother using WeChat, calling every few days, but starting on Sept. 11, they couldn't get through. At first they thought her phone was broken or that she was sick. Days passed by without news. Then they started to imagine the worst: Could she have been taken to the camps?
As I spoke with relatives, I learned that my aunt Mayinur Abliz, a 64-year-old housewife in Artush, about 900 miles away from Urumqi, had disappeared the same day. Six days earlier, I had participated in a panel at the Hudson Institute, a Washington think tank, in which I had spoken about the situation in East Turkestan. Now two of my closest relatives back home had vanished.
Although the Chinese government never needs a reason for taking someone, these two women seemed like unusual targets. My sister hadn't traveled to any Muslim countries, and she worked as a doctor in a government-run hospital. Neither my aunt nor my sister fits any of the usual criteria for detention in the camps. But we gradually realized that it must have something to do with me. Guilt by association is what the communist state knows best. My sister and my aunt had likely become victims of reprisal by the government for my activism in the United States.
I have been campaigning for Uighur human rights and democracy since I first arrived in the United States in 1989. I've been a proud citizen of this country since 1995. In January of this year, I founded the One Voice One Step campaign to expose the mass incarceration of the Uighurs. On March 15, I organized a global protest. Protests in solidarity with the campaign successfully took place across the globe in 14 countries, including a demonstration in front of the United Nations building in New York. It was this activism that likely led China to retaliate against my family by taking them hostage.
My nieces are worried about Gulshan's health because she has high blood pressure, migraines and back problems. They also know that their mother had been hospitalized for osteoporosis just before her disappearance. All this would be bad enough, but there are also credible reports of torture and death in the camps. The conditions are so intolerably bad that 55-year-old Qeyser Qeyum, the editor in chief in a literary magazine who was a brother of my high school classmate, recently committed suicide by jumping from an eighth-floor window out of fear of being detained.
China has brutally persecuted the people of East Turkestan for years. Since Mao Zedong's occupation of East Turkestan in 1949, the government has tried relentlessly to destroy Uighur culture and religion, viewing them as barriers to Beijing's plans for development of the region and beyond.
I'm sad to see that there has been so little response from the international community. As Member of the European Parliament Ignazio Corrao recently said, "Concentration camps are back, there are no other words to describe what is happening in Xinjiang. … Colleagues, what else do we have to witness before taking concrete actions? Gas chambers? Mass executions?"
It is time once more to say "never again" to ethnic genocide. Let's stop this cruelty against humanity before it's too late.