CFU Press Release
For Immediate Release
February 21h, 2022 1:30PM EST
Contact: contact@campaignforuyghurs.org
www.campaignforuyghurs.org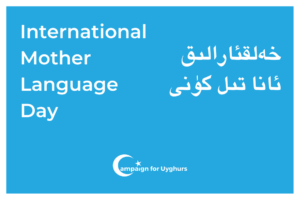 Campaign for Uyghurs is proud to celebrate another International Mother Language Day. The Uyghur language is native to around 20  million speakers, mostly living  in occupied East Turkistan, where the Uyghur, Kazakh, Uzbek and other Turkic Muslims are facing genocide. It is a vibrant linguistic tradition that is woven into a rich Uyghur storytelling, singing and poetic culture. It is also highly endangered. Banning Uyghur language is a tool of genocide, wielded by China to control and exterminate the Uyghur population. On this day, we celebrate the Uyghur scholars and advocates fighting to safeguard its existence and teach it to future generations. 
Under the current regime, a "bilingual education" policy has been accelerated. This policy allegedly should require that Han Chinese be taught in schools in addition to Uyghur. However, the system has been revised by the CCP in an effort to erase the Uyghur language as a tool of cultural unity. In 2017, the Uyghur language was banned in schools and began to be erased from street signs, murals, and books in stores.
Executive Director Rushan Abbas said today that "We fight to protect the rights of persecuted people to speak their native tongue. We advocate for Uyghurs around the world to speak their language free from fear, violence or reprisal. Language should never be a crime. We must work to ensure the Uyghur language lasts as many years into the future, as the thousands of years it has persisted in the past. Governments of the world must call upon China to halt their morally bankrupt policies and end their Uyghur genocide."
While the Beijing 2022 Olympics ended today, the fight against genocide is not over. We must address the destruction of the Uyghur culture and language. There is reason to celebrate this day, and to use it as a rallying cry to support the unique portions of Uyghur identity that the CCP see as a threat to their monolithic power. Activists around the world are working to preserve the Uyghur language and culture, and they need the help of a unified international community. We must organize on the local and international level to ensure this genocide does not remove even one thread from the rich tapestry of human culture.