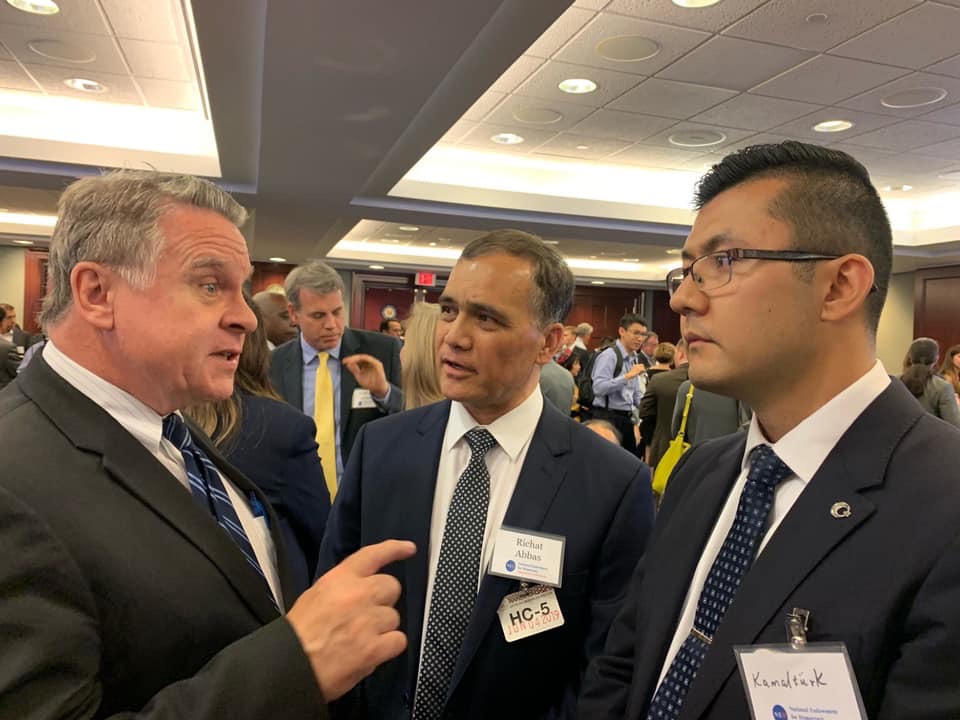 (Picture: Kamalturk Yalqun, Dr. Rishat Abbas are speaking with Congressman Chris Smith)
Kamalturk Yalqun is the General Secretary and Chairman of the Youth Committee for Campaign for Uyghurs.
Kamalturk's Father, Yalqun Rozi, is a famous Uyghur scholar and literary critic. Yalqun Rozi was the chief editor of the Uyghur literature textbooks for middle school and elementary schools. He was sentenced for 15 years in 2018, two years after his arrest, for the "ideological problems" in the textbooks.
After his father's arrest, Kamalturk became an activist in pursuit of his father's release. The rapid deterioration and destruction of the basic human rights in East Turkestan and the imprisonment of millions of Uyghurs into concentration camps after his father's imprisonment widened Kamalturk's pursuits from the freedom for his father to freedom for the millions of Uyghurs languishing in the concentration camps.
Kamalturk ceaselessly attended protests, gave speeches at rallies and conferences to address the Uyghur human rights crisis. On February 8th at Grand Rapids, Kamalturk gave a speech in a rally against the visiting of Chinese ambassador Cui Tiankai. On March 31st, Kamalturk attended a Seminar on held by Ahmadiyya Muslim Community to address the perils of Uyghur Muslims in China. Kamalturk met with numerous Senators and Congressmen in person to address the Uyghur human rights crisis and the unjust treatment of his father.