Find the original release of the open letter here: https://nobeijing2022.org/joint-open-letter-to-airbnb-urgently-remove-support-for-beijing-2022/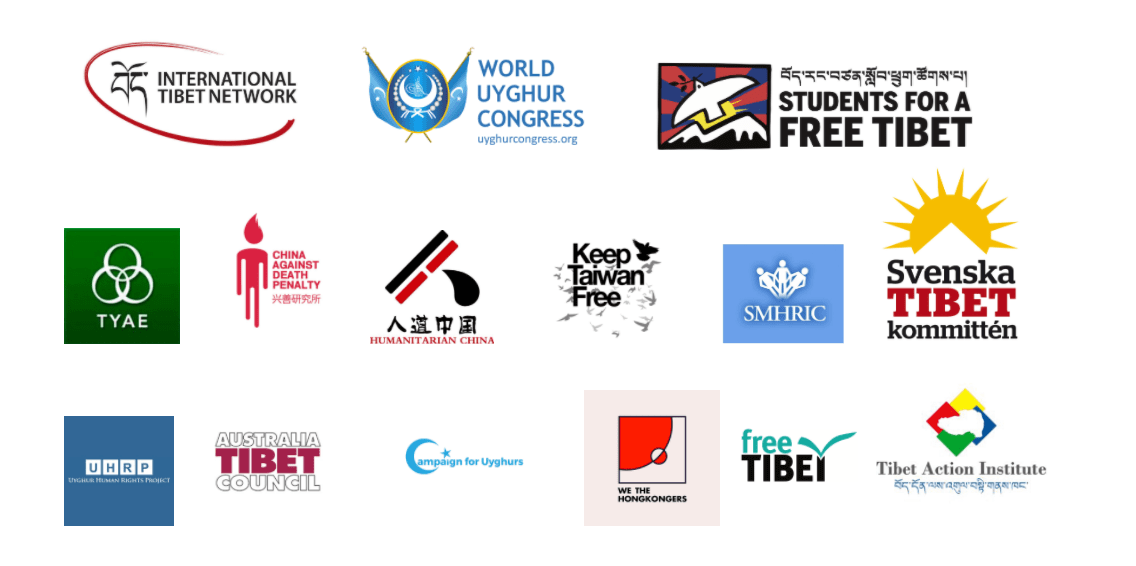 Dear Mr Brian Chesky
We, a coalition of over 190 global campaign groups, are writing this letter to raise our serious concerns about Airbnb's agreement to support the Beijing 2022 Winter Games as part of the company's Olympic partnership. Given the Chinese government's discriminatory policies against Tibetans and Uyghurs and its repressive policies against other people under its rule, we urge you to withdraw your support for the Winter Games. Such a move would clearly signal Airbnb's opposition to human rights violations, including what governments are increasingly recognizing as a genocide against the Uyghur people.
In less than a year the Beijing 2022 Winter Olympic Games will open, against a backdrop of severe repression and worsening human rights. The Chinese authorities have been promoting this prestigious event as "open" and "inclusive", and that it will create a "harmonious world" and promote "social progress". In November 2019, Airbnb made a statement concerning the company's Olympic partnership, stating it would ensure Games would be "accessible" in line with Airbnb's mission "where anyone can belong." With over 2 million Uyghurs arbitrarily detained in internment camps, with pro-democracy activists being rounded up en masse in Hong Kong, and with Tibet now listed as the least free place in the world, alongside Syria, it is hard to imagine how this will be the case.
Due to China's systematic racist policies, Tibetans and Uyghurs will be unable to freely travel to watch the 2022 Winter Games. Tibetans and Uyghurs face severe restrictions on their right to freedom of movement in Tibet, East Turkistan (Ch: Xinjiang), across China and abroad. In Tibet, checkpoints prevent freely Tibetans from visiting their family in other parts of the country or from undertaking religious pilgrimages. Even in their own locality, Tibetans live under constant surveillance, from CCTV in monasteries to facial recognition and real-time monitoring in taxis in Lhasa.
One key method of control used by Chinese authorities is the denial of passports to Tibetans and Uyghurs, a practice in contravention of Chinese law and which has been severely condemned by United Nations experts. This practice is particularly relevant to Airbnb, since as your website notes, it is impossible to book accommodation – hotels or Airbnb – anywhere in China without a passport. Furthermore Tibetans and Uyghurs are frequently rejected from booking accommodation and reports evidence that individuals with these ethnic identities have been 'blacklisted' from booking hotel rooms in major Chinese cities, with staff being forced to inform local police stations if they try to check in.
As the above evidence shows, the very idea that accessibility would be extended to Tibetans or Uyghurs to travel freely during Beijing 2022 or to stay in an Airbnb could not be further from reality. By promoting Beijing listings as a tourist destination, Airbnb is also glossing over China's horrifying human rights record and normalising to the public what is recognised under international law as a deeply restrictive environment. Airbnb should not be encouraging a wider tourist industry to be supported and allowed to flourish at the expense of Uyghur and Tibetan rights.
Airbnb was started with the mission of empowering local communities. It is that focus on 'people power' which makes the company so attractive to many and has enabled it to grow into the company it is today. With over 220 countries and regions with Airbnb listings, and over 4 million hosts who have welcomed over 800 million guests across the globe, Airbnb is hugely influential – and it has the power to help stop this injustice. Partnering with a government whose policies go against the very core of Airbnb's public commitment to human rights, is an affront to that original mission. Airbnb should not sidestep those values to reap the financial rewards that come with sponsoring a major sporting event that is taking place in such a repressive environment.
We urge you to use your influence with the IOC to press for the Games to be moved and if this doesn't happen to immediately remove your support, or risk being tainted by the association. By terminating this agreement, Airbnb has an opportunity to send a clear message that it will not tolerate dealing with governments that profit from occupation, genocide, and human rights violations and would be leading the way in the travel sector and demonstrating a true commitment to ending human rights abuses.
We request the opportunity to meet with you and other representatives of Airbnb to discuss our serious concerns regarding the situation facing Tibetan, Uyghur, Hong Kong, Southern Mongolian and Chinese representatives. Please contact Mandie McKeown at mandie@tibetnetwork.org to discuss arranging this meeting.
Yours sincerely,
Mandie McKeown, International Tibet Network – on behalf of:
Dorjee Tseten, Students for a Free Tibet
Dolkun Isa,World Uyghur Congress
Frances Hui, We The Hongkongers
Teng Biao, China Against the Death Penalty
Lhadon Tethong, Tibet Action Institute
Rushan Abbas, Campaign for Uyghurs
John Jones, Free Tibet
Tashi Shitsetsang, Tibetan Youth Association Europe
Omer Kanat, Uyghur Human Rights Project
Jenny Wang, Keep Taiwan Free
周锋锁 Zhou Fengsuo, Humanitarian China
Zoe Bedford, Australia Tibet Council
Mattias Bjornerstedt, Swedish Tibet Committee
Enghebatu Togochog, Southern Mongolian Human Rights Center
Aide aux Refugies Tibetains
Amigos de Tibet, Colombia
Amigos del Tíbet, Chile
Amigos del Tíbet, El Salvador
Anterrashtriya Bharat – Tibbet Sahyog Samiti
AREF International Onlus
Asociación Cultural Peruano Tibetana
Asociación Cultural Tibetano Costarricense
Association Cognizance Tibet, North Carolina
Association Drôme Ardèche-Tibet
Associazione Italia-Tibet
Australia China Watch
Australian East Turkestan Association
Australian Uyghur Association
Australian Uyghur Tangritagh Women's Association
Austria Uyghur Association
Bath District Tibet Support Group
Bay Area Friends of Tibet
Belgium Uyghur Association
Bharrat Tibbat Sahyog Manch, India
Boston Tibet Network
Boston Uyghur Association
Briancon05 Urgence Tibet
Canada Tibet Committee
Canadian Coalition Against Communism
Captive Nations Coaltion
Casa del Tibet – Spain
Casa Tibet México
Centro De Cultura Tibetana, Brazil
China Alarm
Circle of Friends (Philippines)
Citizen Power Initiatives for China
Comité de Apoyo al Tibet (CAT)
Committee of 100 for Tibet
Core Group for Tibetan Cause, India
Czechs Support Tibet
DC Chapter of China Democracy Party
Defend Democracy
Dream for Children, Japan
Dutch Uyghur Human Rights Foundation
East Turkistan Association in Finland
East Turkistan Association of Canada
East Turkistan Education Center in Europe
East Turkistan New Generation Movement
East Turkistan Nuzugum Culture and Family Organization
East Turkistan Press and Media Organization
East Turkistan Union in Europe
Eastern Turkistan Foundation
Eastern Turkistan Uyghur Association in Netherlands
EcoTibet Ireland
Étudiants Pour Un Tibet Libre
Euro-Asia Foundation: Teklimakan Publishing House
European Uyghur Institute
Federation for a Democratic China
Foundation for Universal Responsibility of H. H. the Dalai Lama
France-Tibet
Free Indo-Pacific Alliance
Free Tibet Fukuoka
FREE TIBET ITALIA
Friends of Tibet in Costa Rica
Friends of Tibet in Finland
Friends of Tibet New Zealand
Friends4Tibet
Germany Stands with Hong Kong
Global Alliance for Tibet & Persecuted Minorities
Grupo de Apoio ao Tibete, Portugal
Hong Kong Commitee in Norway
Human Rights Network for Tibet and Taiwan
Ilham Tohti Initiative
India Tibet Friendship Society
International Campaign for Tibet
International Pen Uyghur Center
International Society for Human Rights- Sweden
International Society of Human Rights, Munich Chapter
International Tibet Independence Movement
International Uyghur Human Right and Democracy Foundation
Isa Yusup Alptekin Foundation
Israeli Friends of the Tibetan People
Japan Association of Monks for Tibet (Super Sangha)
Japan Uyghur Association
Justice 4 Uyghurs
Justice For All
Kazakhstan National Culture Center
Le Club Français, Paraguay
Les Amis du Tibet – Belgium
Les Amis du Tibet Luxembourg
Lions Des Neiges Mont Blanc, France
Lungta Association Belgium
Maison des Himalayas
Maison du Tibet – Tibet Info
Mavi Hilal Humanitarian Organization
McGill Hong Kong Public Awareness and Social Service
National Campaign for Tibetan Support, India
National Democratic Party of Tibet
Norwegian Uyghur Committee
Objectif TibetPasseport Tibetain
Phagma Drolma-Arya Tara
RangZen:Movimento Tibete Livre, Brazil
Regional Tibetan Association of Massachusetts
Roof of the World Foundation, Indonesia
Sakya Trinley Ling
Santa Barbara Friends of Tibet
Save the Mongolian Language NGO
Save the Persecuted Christians
Save Tibet Foundation
Save Tibet, Austria
Shukr Foundation
Sierra Friends of Tibet
Society for Threatened Peoples International
Society Union of Uyghur National Association
Stand With Hong Kong Vienna
Students for a Free Tibet – Canada
Students for a Free Tibet – UK
Students for a Free Tibet Denmark
Students for a Free Tibet India
Students for a Free Tibet Japan
Sweden Uyghur Education Union
Swedish Tibet Committee
Swiss Tibetan Friendship Association (GSTF)
Switzerland East Turkestan Association
Taiwan Friends of Tibet
Tashi Delek Bordeaux
The Norwegian Tibet Committee
The Youth Liberation Front of Tibet, Mongolia and Turkestan
Tibet Action Group of Western Australia
Tibet cesky (Tibet in Czech)
Tibet Committee of Fairbanks
Tibet Group, Panama
Tibet Initiative Deutschland
Tibet Justice Center
Tibet Lives, India
Tibet Mx
Tíbet Patria Libre, Uruguay
Tibet Rescue Initiative in Africa
Tibet Society of South Africa
Tibet Support Committee Denmark
Tibet Support Group Adelaide
Tibet Support Group Kenya
Tibet Support Group Kiku, Japan
Tibet Support Group Netherlands
Tibet Support Group Slovenia
Tibetan Association of Germany
Tibetan Association of Ithaca
Tibetan Association of Northern California
Tibetan Association of Philadelphia
Tibetan Community Austria
Tibetan Community in Britain
Tibetan Community in Denmark
Tibetan Community in Ireland
Tibetan Community of Italy
Tibetan Community of Victoria
Tibetan Community Sweden
Tibetan Community, Queensland
Tibetan Cultural Association – Quebec
Tibetan Programme of The Other Space Foundation
Tibetan Women's Association (Central)
Tibetans of Mixed Heritage
Tibetisches Zentrum Hamburg
TIBETmichigan
Torontonian HongKongers Action Group
U.S. Tibet Committee
Uigur Society of the Kyrgyz Republic
Umer Uyghur Trust
United Nations for a Free Tibet (UNFFT)
US Hongkongers Club
Uyghur Academy
Uyghur American Association
Uyghur Association of France
Uyghur Center for Human Rights and Democracy
Uyghur Cultural and Education Union in Germany
Uyghur Education Union
Uyghur Human Right Project
Uyghur Projects Foundation
Uyghur Refugee Relief Fund
Uyghur Research Institute
Uyghur Rights Advocacy Project
Uyghur Support Group Netherlands
Uyghur Transitional Justice Database
Uyghur U.K. Association
Uyghur Youth Union in Kazakhstan
Uzbekistan Uyghur Culture Center
Viktoria Uyghur Association
Voces Tibet
World Mongolian Khuraldai
World Uyghur Congress Foundation