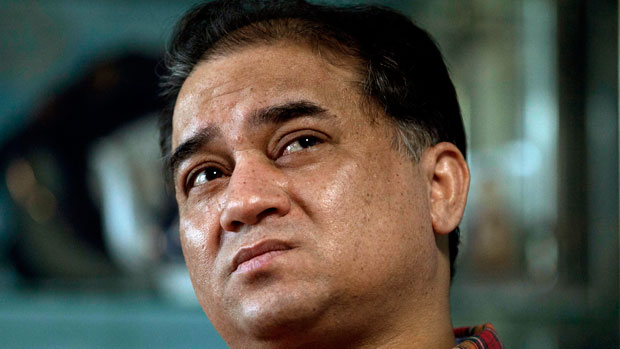 Imprisoned Uyghur professor Ilham Tohti is shown in an undated photo.
Jailed Uyghur scholar Ilham Tohti was honored on Wednesday at a ceremony in Washington D.C., where he was given the Freedom Award in absentia by the democracy watchdog group Freedom House.
Accepting the award on her father's behalf at the May 8 gathering at Washington's Ritz-Carlton Hotel, Tohti's daughter Jewher Tohti said that she wished her father could have been present to accept his award in person.
"[And] I wish that this recognition were unnecessary," Jewher Tohti said, "because that would mean that the Uyghur people were free."
Ilham Tohti is someone who sees political and cultural oppression as a problem to be fixed, Jewher Tohti said, adding that China's treatment of the Uyghur ethnic minority in northwestern China's Xinjiang region, the Uyghurs' historic homeland, "was always causing bigger societal damage."
"Even before the horrendous crackdown, the camps, the torture of innocent people, China was creating larger, longer-term problems between groups of people," she said.
"When people are treated and labeled as separate or different, as wrong or bad, human connection cannot happen."
In remarks introducing the granting of the award, U.S. Senator from Colorado Cory Gardner said that Ilham Tohti knew that he would someday be jailed for "telling the story of his community, the Uyghurs."
"He expected that his peaceful calls for connection and understanding between Uyghurs and Han Chinese would need to be silenced," Gardner said.
"Like other historic champions of freedom and human rights, Ilham Tohti embodies a fearlessness to which we all aspire," Gardner said, adding, "To put the cause of human liberty ahead of your own life is the ultimate act of courage," Gardner said.
Convicted of 'separatism'
An outspoken economics professor who regularly highlighted the religious and cultural persecution of the mostly Muslim Uyghur ethnic minority in northwest China's Xinjiang region, Tohti was charged with promoting ethnic separatism and was handed a life sentence by a Chinese court on Sept. 23, 2014 following a two-day trial.
The court decision cited Tohti's criticism of Beijing's ethnic policies, his interviews with overseas media outlets, and his work founding and running the Chinese-language website Uighurbiz.net, which was shut down by Chinese authorities in 2014.
International rights groups and politicians in the U.S. and Europe have condemned China's network of political "re-education camps" that have held up to 1.5 million Uyghurs and other Muslim ethnic minorities accused of harboring "strong religious views" and "politically incorrect" ideas since April 2017.
Though Beijing initially denied the existence of the camps, China has tried to change the discussion, describing the facilities as "boarding schools" that provide vocational training for Uyghurs, discourage radicalization, and help protect the country from terrorism.
Reported by RFA's Uyghur Service. Written in English by Richard Finney.
https://www.rfa.org/english/news/uyghur/award-05092019183441.html