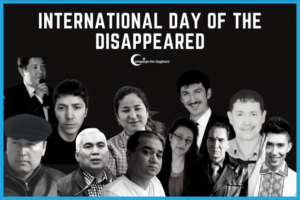 CFU Press Release
For Immediate Release
August 30, 2021 2:00 p.m. EST
Contact: contact@campaignforuyghurs.org
www.campaignforuyghurs.org
On today's International Day of the Victims of Enforced Disappearances, we must recognize the ways in which the Chinese State has become a primary perpetrator of forced disappearances. The Chinese Communist Party has systematically targeted the Uyghurs because of their ethnicity and religion, conducting an on-going genocide. Simultaneously, it has utilized forced disappearances of Tibetans, Hongkongers, Chinese dissidents and Christians as well.  Their dark deeds are performed with the full knowledge of the existence of the United Nations and international governments, and yet the Chinese regime is still being given every opportunity to shine on the world stage. Beijing is hosting the 2022 Winter Olympics while engaging in the kidnapping and extrajudicial forced disappearances of Uyghur intellectuals, scholars, civil society public servants, and professionals in connection with the Uyghur genocide. 
Today, Campaign For Uyghurs (CFU) remembers those who the CCP has attempted to erase. This genocide is occurring not only on physical grounds, but on mental and cultural grounds as well. As millions of Uyghurs are systematically moved into concentration camps and prison cells, the state is attempting to determine what parts of their lives are acceptable and what parts are not. This campaign of disappearances is part of that fight; an attempt to eradicate from shared cultural memory the very existence of persons. 
Executive Director of CFU Rushan Abbas remarked "We are fighting a genocide on two fronts. It is fought in the concentration camps and on the ground in East Turkistan, and it is also fought in the hearts and minds of the world. The international community often remains content to collaborate with the Chinese authorities when economically beneficial. We must recognize that the international criminal behavior which Beijing is engaging in threatens to undermine the very values of humanity which should undergird our international system. If we wish to combat these atrocities we must start by refusing to allow these individuals' lives to be erased. We must demand that the Chinese regime answer for these abductions."
That is why today, Campaign For Uyghurs calls on the governments of the world, as well as the United Nations, to fully acknowledged their responsibility to hold the Chinese Communist Party accountable for genocide and crimes against humanity. We must not allow the Beijing Olympics to serve as a platform for this regime to display its false human rights record on the international stage. We must not buy into the false belief that China is a reliable international partner in any sector while the CCP is engaged in the extrajudicial targeting of innocent Uyghur civilians as part of active genocide. 
For more information on the Berlin-Beijing Olympics Coalition, click here.