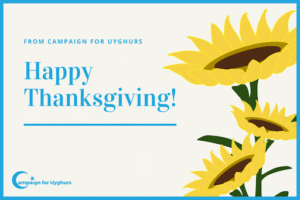 CFU Press Release
For Immediate Release
November 25th, 2021, 8:00 am EST
Contact: contact@campaignforuyghurs.org
www.campaignforuyghurs.org
Today, Campaign for Uyghurs (CFU) wishes to extend a heartfelt gratitude to all those who have worked alongside the organization and diaspora Uyghurs in the fight to bring the Uyghur genocide to an end. Today is a day for  reflection, as we look to those who have lifted us along our current path and give thanks for their crucial assistance. From all of those at CFU, thank you for your work these last years, and for the work that will continue in the years to come.
Executive Director of CFU Rushan Abbas said "For the people in the United States today is a day of celebration and love. We wish all those celebrating a very happy Thanksgiving!   We give thanks for those who have supported our cause this year. I cannot help but feel sadness in my heart for my family this season, once again confronting the holidays with brokenness. The true sadness however, is for just how common our family damage has been made. All Uyghurs are facing the same pain as part of this genocide. As you give thanks this week, please remember those Uyghurs who are desperately seeking for their families to be reunited once again."
As with all holidays that center around family and community, we ask that the world remember all those Uyghurs whose communities and families have been broken at the hands of the Chinese Communist Party (CCP). The genocide has touched every family in one way or another. Whether it is a mother who cannot see her children, a brother who has no word from his sister, or a child with no word of their parents whereabouts. They deserve time with their families; an irreplaceable gift that no person should have taken from them. As we look to a new year with new opportunities for activism, we take these families into our heart as the motivation to rise each day with that same declaration: there can be no peace while genocide prevails. 
If you or your family wish to aid in the Uyghur Cause, please join the Berlin-Beijing Campaign to boycott the 2022 Beijing Olympics. These Olympic games serve to legitimize the ongoing genocide in East Turkistan, and will only prolong the separation of Uyghur families around the world.