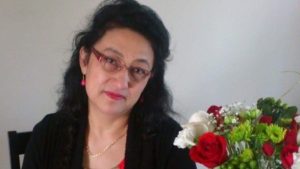 My name is Ziba Murat. I am an Uyghur-American. I have a plea to the world: Please help me bring my mom home from China's concentration camp.
"You should get some rest when your baby is sleeping" this was her last message to me on 9/10/2018. That was the day when our worst nightmare became a reality. The Chinese government has extended their evil hands to take my mother, Dr. Gulshan Abbas, a 57-year-old Uyghur retired medical doctor, an intellectual, and most importantly, a law-abiding citizen of the People's Republic of China. She was taken by the police to China's infamous concentration camp where Uyghurs, Kazakhs, and other ethnic Muslims are held, prisoner. 
To this day, we have no idea where she is being held or her condition. We asked our relatives back in Urumqi to get information on her whereabouts or to go see her, but our questions always greeted with a very vague answer about her whereabouts or "only immediate families are allowed."  Basically no one is willing or able to get an answer for us. Her entire immediate family (two daughters, three siblings) is in the United States. But when we reach out to the Chinese Ambassador to the United States, we hit another wall, and are provided no answer.
To make things worse, my mom has multiple health ailments requiring medication including high blood pressure, immobilizing back pain, osteoporosis, and in addition, both of her eyes have undergone multiple surgeries and thus require regular monitoring. Now with the Covid-19 outbreak, I am more terrified and worried because these camps are a breeding ground for viruses such as Covid-19. 
Our mother is a trained medical professional, does not have any criminal records, and has good knowledge of the Chinese constitution. She has not traveled to any other countries except the United States to see us and she does not have any connection in any other countries. She was living a simple life before she disappeared. She did not violate any Chinese laws.
Her disappearance has had a severe toll on both me and my sister as mothers because parenthood was something that we always thought we would be sharing with mom, we wanted her to give us guidance and be part of our life. But the Chinese government took that away from us by locking her up. She should be under the care of her daughters and get medical attention.
Please take a few seconds to sign this petition to help me get her released from this horrible dungeon. We want her to hold her grandkids again, we want to hear her voice again. Together, we can bring her home! 
Please sign here:  http://chng.it/h8kpCyv9Ln  
Finally, we plead to the international communities & human rights organizations to help us raise awareness of her case and assist us in seeking her immediate release.
To the journalists, lawyers and humanitarians out there, if you think you can help me in any way please reach out to me freegulshanabbas@outlook.com