CFU Press Release
For Immediate Release
July 19th, 2021 12:00 EST
Contact: contact@campaignforuyghurs.org
www.campaignforuyghurs.org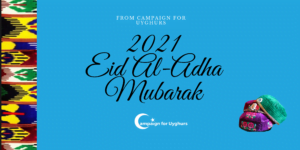 Campaign for Uyghurs (CFU) extends a warm celebration to all our Muslim brothers and sisters on this holiday. It is with great gratitude that we take this moment to breathe deeply and reflect on our movement and on faith. Today marks a celebration among the Islamic peoples of the world in honor of Abraham's belief in the righteousness of his God. This faith offers us a chance to take heart in a similar faith, especially as we face the ongoing genocide of the Uyghur people. 
We define our faith not only by our internal recognitions, but through how we shape the world around us. On this holy day, we must not forget our brothers and sisters who languish in East Turkistan under the heavy burden of the CCP. Their faith has been made illegal, their mosques torn down, their culture and lives stripped from them while they face eradication. Just as Abraham was called to meet the test laid out before him, we are called to rise to the occasion of our times. It is imperative that we demand the Uyghurs be able to celebrate this day with us without hiding their belief. 
Campaign for Uyghurs spent the last week working alongside proud activists during International Religious Freedom Week in Washington, D.C. to highlight the importance of religious freedom as a human right. These events have shown that religious tolerance and respect are not waning ideals, but strong concepts. We are hopeful that the international community will lead the charge to establish them in the Uyghur cause. 
Executive Director of Campaign for Uyghurs Rushan Abbas sent well wishes, saying "Eid al-Adha Mubarak, from all of us here at Campaign for Uyghurs, to your family. We hope that today is a welcome day of reflection and prayer, when we can all look for ways to better the world around us. It is heartbreaking to me that another year has come when Uyghur muslims will be deprived of this joyous day. It darkens the skies of celebration for me when I realize that there are millions of muslims whose very identity is criminalized. Truly, this is not justice. The genocide in East Turkistan is a crime against humanity, as well as against faith. Such destruction is an affront to peaceful nations and individuals, and stands in stark contrast to days like these."
We must remain vigilant, and speak for our Uyghur brothers and sisters when they may not be able to for themselves. This world we craft will be inherited by those that come after us, and it is worth our best efforts to ensure it is a world worth inheriting. We ask that as you celebrate with loved ones this Eid, remember those who cannot. Keep in your prayers those who have been separated from their families, unable to know of their health or whereabouts. Until all can practice their faith freely, and can live without this threat of genocide, we shall not truly have reached a day of absolute joy. 
Eid al-Adha Mubarak, from all of us at Campaign for Uyghurs.