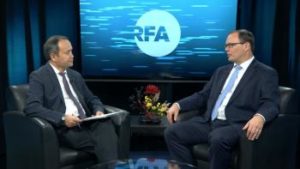 Authorities in northwest China's Xinjiang Uyghur Autonomous Region (XUAR) have detained up to 1.8 million Uyghurs and other Muslim minorities in as many as 1,300 to 1,400 internment camps, one of the world's foremost experts on mass incarcerations in the region said in a paper released Sunday.
Adrian Zenz, senior fellow in China Studies at the Washington-based Victims of Communism Memorial Foundation, obtained a cache of more than 25,000 files from different government departments in the XUAR to inform his latest estimate of the number of Uyghurs and other Muslim minorities being held in a vast network of camps in the region since April 2017.
Zenz had initially estimated that some 1.1 million people are or have been detained in the camps, which he refers to as Vocational Training Internment Camps (VTICs), but in March this year revised his assessment to 1.5 million. Camp inmates have been accused of harboring "strong religious views" and "politically incorrect" ideas.
"Adding 177,000 to the current internment estimate of 1.6 million results in a combined figure of 1.777 million, or approximately 1.8 million," he said in the report, which also cited members of the Hui Muslim minority as being among those detained.
"This means that 15.4 percent of the adult Turkic and Hui minority population are or have been interned. This is equivalent to just below one in six members of that population, with the difference to the author's previous estimate from July 2019 of 1.5 million being explained by using updated population figures, including the Hui population in the sample."
Zenz said that his new estimate was based on information obtained mostly from rural minority regions in the XUAR's Hotan (in Chinese, Hetian), Kashgar (Kashi), and Kizilsu Kirghiz (Kezileisu Keerkezi) Autonomous prefectures.
Camps in the region number up to 1,400, Zenz said in Sunday's report, providing more specific details following an interview with RFA's Uyghur Service earlier this month, in which he said that he had obtained convincing evidence to suggest that his "original estimate of at least one camp per administrative unit between township and prefecture levels, which adds up to 1,200, was accurate."
"Xinjiang has at least 119 detention centers, one per administrative unit above township level," the report said.
"Likely, there are more than that. That means that the region has probably somewhere between 1,300 and 1,400 extrajudicial internment facilities (excluding prisons)."
In one tranche of data included in Sunday's report, Zenz posted a spreadsheet containing detailed information on nearly 1,500 persons detained from just one village in Kashgar's Yarkand (Shache) county, with the last six digits of their identification numbers redacted for privacy reasons.
The report more generally includes lists of detainees including "young persons with their status of study or work, lists of children with both parents in some form of detention and how they are being cared for, lists of couples of mixed ethnicity and whether they still live together, lists of families and their fulfillment of family planning requirements."
It also details "lists of persons below the poverty line or who are currently (or no longer) receiving minimum welfare payments, or lists of persons who have failed or are unable to repay their government-issued debt."
'Coercive and abusive'
While Beijing once denied the existence of the camps, China this year changed tack and began describing the facilities as "boarding schools" that provide vocational training for Uyghurs, discourage radicalization, and help protect the country from terrorism.
Reporting by RFA's Uyghur Service and other media organizations, however, has shown that those in the camps are detained against their will and subjected to political indoctrination, routinely face rough treatment at the hands of their overseers, and endure poor diets and unhygienic conditions in the often overcrowded facilities.
According to Zenz's report, official government documentation "repeatedly and unambiguously testifies to the fact that Xinjiang's VTICs engage in known and pre-existing forms of coercive and abusive political re-education."
He cites at least five different XUAR government or educational institution websites as stating that the VTICs "are dedicated brain-washing institutions" that claim to "wash clean the brains of people who became bewitched by the extreme religious ideologies of the 'three forces,'" or the terrorism, separatism, and religious extremism China says are threatening Xinjiang.
Zenz's report also bolsters reports that internment camp detainees are "in involuntary internment" and that the camps are "heavily guarded, prison-like facilities."
Shifting strategy
Speaking with RFA earlier this month, Zenz said that China significantly increased its internment and internment capacity in the XUAR in 2018, but gradually shifted from "vocational training" into what he called "involuntary or coercive forms of labor" in the second half of last year.
Zenz said that while it is difficult to confirm such trends, as there is limited evidence to work from and China's government doesn't provide statistics, he believes that "in 2019 Xinjiang has been moving from internment into forced labor."
Last month, at a hearing in Washington held by the Congressional-Executive Commission on China (CECC), witnesses including Zenz highlighted reports of a widespread system of forced labor in the XUAR, which requires Uyghurs and other ethnic minority Muslims to work in the production of textiles, food, and light manufacturing.
Zenz detailed a forced labor system he called even "more shocking" than that of the internment camps, which he said involved coerced military, political, and vocational training for the purpose of working in officially subsidized companies as part of a "business of oppression."
China is the world's largest cotton producer and Zenz noted that some 84 percent of China's cotton is produced in the XUAR, meaning that between the textile industry and other forms of work—including on components that are sent to eastern China and incorporated into finished products—it is extremely difficult for customs officials in the U.S. to determine whether imported goods are linked to forced labor in the region.
He said at the time that "the situation in Xinjiang is so serious, that it is necessary and warranted to call for an ethical boycott of any products made in whole or in part in Xinjiang."
Mass incarcerations
Mass incarcerations in the XUAR, as well as other policies seen to violate the rights of Uyghurs and other Muslims, have led to increasing calls by the international community to hold Beijing accountable for its actions in the region.
U.S. Secretary of State Mike Pompeo last month singled out China as one of the worst perpetrators of abuse against people of faith, particularly in the XUAR.
In September, at an event on the sidelines of the United Nations General Assembly in New York, U.S. Deputy Secretary of State John J. Sullivan said that the U.N. has failed to hold China to account over its policies in the XUAR and should demand unfettered access to the region to investigate reports of the mass incarceration and other rights abuses against Uyghurs.
Last week, The New York Times published a 403-page trove of documents it said were released by someone within the "Chinese political establishment" that told of how Xi called for an "all-out 'struggle against terrorism, infiltration, and separatism' using the 'organs of dictatorship,'" in internal speeches following an attack by Uyghur militants that killed more than 30 people at a train station in 2014.
While it was unclear how the documents, commonly referred to as the "Xinjiang Papers," were selected, the Times said that the leak came from an official who requested anonymity and expressed hope that their disclosure would hold party leaders, including Xi, accountable for policies in the region.