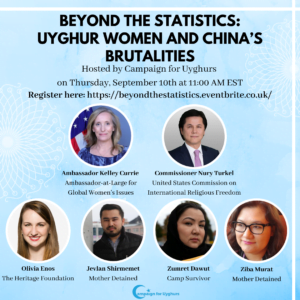 Thursday, September 10th at 11:00 a.m. EST 
We hope you will join us to hear these important testimonies and be further acquainted with the faces of the people impacted by China's atrocities.
Further information on the panel below: 
The Uyghur human rights crisis has received increased attention as of late, but action to stop the atrocities has been slow on the part of the international community. Uyghur women in particular have been especially brutalized by the Chinese regime's policies. We will hear from individuals with firsthand knowledge of these atrocities, the current situation, and the international response. 
Speakers:
 Ambassador Kelley Currie was appointed Ambassador-at-Large for Global Women's Issues by President Trump in December 2019. She serves simultaneously as the U.S. Representative at the United Nations Commission on the Status of Women.  Prior to her appointment, she led the Department of State's Office of Global Criminal Justice (2019) and served under Ambassador Nikki Haley as the United States' Representative to the UN Economic and Social Council and Alternative Representative to the UN General Assembly (2017-2018). Throughout her career in foreign policy, Ambassador Currie has specialized in human rights, political reform, development and humanitarian issues, with a focus on the Asia-Pacific region. 
USCIRF Commissioner Nury Turkel is a lawyer and Uyghur rights advocate. He holds a Master of Arts in International Relations and a Juris Doctorate from the American University in Washington, DC, and specializes in regulatory compliance, federal investigation and enforcement, anti-bribery, aviation, legislative advocacy, and immigration. In addition to his professional career, Turkel has devoted his time and energy to promoting Uyghur human rights and supporting American and universal democratic norms. He is the first U.S.-educated Uyghur lawyer. 
Olivia Enos is a senior policy analyst in the Asian Studies Center at The Heritage Foundation and focuses on human rights and national security challenges in Asia. Her research spans a wide range of subjects, including democracy and governance challenges, human trafficking and human smuggling, religious freedom, refugee issues, and other social challenges in the region. 
Zumret Dawut is a survivor of China's concentration camps, and since escaping China's brutal regime, has used her freedom to share her story in the hopes of ending the torment of millions of other Uyghurs suffering genocide. 
Jevlan Shirmemet is an Uyghur activist residing in Turkey. His mother, Suriye Tursun,  has been detained by the Chinese regime since 2018 as a result of visiting him in Turkey, where he was studying abroad. He has also discovered that his entire family was detained because of his studies in Turkey. 
Ziba Murat is an Uyghur American residing in Virginia. Her mother, Dr. Gulshan Abbas, was forcibly disappeared in September of 2018. Since that time, she has had no news of her mother, and has become a vocal advocate for her release.