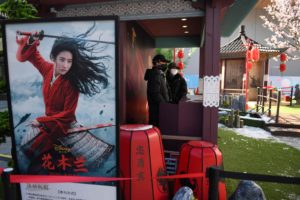 Reported by Adile Ablet and Alim Seytoff for RFA's Uyghur Service, and by Ng Yik-tung for the Cantonese Service. Translated by Alim Seytoff. Written in English by Joshua Lipes.
Disney's decision to thank entities associated with the persecution of Uyghurs in northwest China's Xinjiang Uyghur Autonomous Region (XUAR) in the credits of its new film "Mulan" is an "unforgivable" example of corporate "kowtowing" to the Chinese state, critics said Tuesday.
Disney released its live-action version of the popular 1998 animated film about a young woman who pretends to be a man so that she can join the military on behalf of her sick father on its streaming platform Disney+ over the weekend.
In the credits of the long-awaited remake, the company thanks several entities known to have contributed to Beijing's repressive rule in the XUAR, where authorities are believed to have held up to 1.8 million Uyghurs and other Muslim minorities in a vast network of internment camps since April 2017.
Among those thanked in the credits are the Chinese Communist Party's propaganda commission in the XUAR, which has sought to justify the camps as voluntary "vocational centers," despite reporting by RFA's Uyghur Service which has found that detainees are mostly held against their will in poor conditions, where they are forced to endure inhumane treatment and political indoctrination.
Disney also thanked the Turpan branch of the Xinjiang Public Security Bureau, which in July was sanctioned by the Trump administration for its role in abuses in the region.
Turpan, where the film was shot in part, is a prefecture-level city in eastern Xinjiang whose population of around 650,000 people is some 75 percent Uyghur. The ancient Silk Road city is known as being one of the earliest to have rolled out a campaign of "transformation through education" of Muslims, beginning in August 2013.
Mulan had already courted controversy after its star, Liu Yifei, made comments in August last year supporting Hong Kong's police amid criticism of their use of force against pro-democracy demonstrators, prompting calls for a boycott.
Social media users, including some U.S. lawmakers, were quick to condemn Disney on Monday for shooting the film in the XUAR, furthering calls to avoid it through a campaign using the hashtag #boycottMulan.
German researcher Adrian Zenz, who authored a June 29 report about a dramatic increase in recent years in the number of forced sterilizations and abortions targeting Uyghurs that he believes may amount to a government-led campaign of genocide under United Nations definitions, called Disney's actions "a complete kowtowing of Western capitalism before the Chinese state."
"This is a really big deal because Disney is publicly thanking a Xinjiang security agency and their propaganda department and that's just absolutely incredible given everyone's public knowledge of the situation in Xinjiang," he told RFA.
"A company who is so large and has a dedicated publicity department would absolutely have been aware of developments reported by mainstream international media."
'Normalization of genocide'
Dolkun Isa, head of the Munich-based World Uyghur Congress exile group, called Disney's decision to thank the entities in Turpan "unforgivable," noting that the area is home to Dabanchen—one of the XUAR's largest internment camps with an estimated 114,000 detainees—as well as several other camps.
"We demand that Disney immediately correct its erroneous actions and apologize to the Uyghur people and the international community, and vow that it will never repeat such mistakes again," he told RFA.
The Washington-based Campaign for Uyghurs (CFU) exile group issued a statement Tuesday saying it was "appalled by the latest revelation of a Western corporation that not only ignores China's genocide, but rather directly profits off of it."
"A Disney movie being filmed in the same location where millions of Uyghurs are imprisoned, tortured, and killed based on their ethnic identity, is deeply disturbing," said CFU executive director Rushan Abbas.
"This is normalization of genocide, and Disney must end the practice of profiting off of this murderous Chinese regime."
Writer Ma Jian told RFA that Disney's collaboration with the Xinjiang authorities took place after the camps had been widely exposed and there were many camps near filming locations.
"The concentration camps had already been built, and the camera team passed by and thanked them," Ma said. "This is indeed a disgusting thing."
"While you are watching this movie, there are still many people who've lost their freedom and are in concentration camps," he added.
Disney has yet to issue a statement over its decision to film in Xinjiang.
'Sway' over Hollywood
The company angered Beijing over its support for the 1997 film Kundun, which is seen as sympathetic with Tibet's exiled spiritual leader the Dalai Lama, leading to a delay in the release of the original animated Mulan film in China the following year.
Chinese officials only greenlit the release in February 1999 after a series of concessions by Disney, including an announcement later that year that it would be building a theme park in Hong Kong.
China has long restricted access to films and other content that has portrayed Beijing's rule in a critical light.
Last month, PEN America said in a report that Hollywood studios that once spotlighted the Tibetan cause now censor their movies to appease the Chinese government.
"The Chinese Communist Party, in fact, holds major sway over whether a Hollywood movie will be profitable or not—and studio executives know it," the organization said.
"The result is a system in which Beijing bureaucrats can demand changes to Hollywood movies—or expect Hollywood insiders to anticipate and make these changes, unprompted—without any significant hue or cry over such censorship."
The revelations about Disney's work in the XUAR come less than a month after American sports broadcaster ESPN published an in-depth investigative report on the NBA's business dealings in region.
The report focused in particular on a training academy opened by the NBA in the XUAR capital Urumqi in 2016, shortly before the buildout of the internment camp network, raising difficult questions about the league's knowledge of the local human rights situation and, in turn, the ethics of their operations there.
Zenz said that the timing of reports about Disney's dealings in the XUAR "couldn't be more not only unfortunate, but inappropriate."
"My message to Disney and Hollywood and other corporations is that the Western public does not accept profiteering in the shadow of concentration camps," he said. "It is unacceptable and will lead to a major reputational loss."
You may read the original article here