CFU Press Release
For Immediate Release
November 1, 2021 3:00 p.m. EST
Contact: Contact@campaignforuyghurs.org
www.campaignforuyghurs.org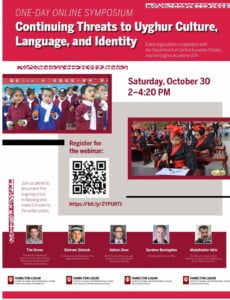 On Saturday, October 30th, an event covering the CCP's genocidal policies brought together scholars and experts to highlight the threat of extinction of the Uyghur culture and language.  The Webinar, entitled "Continuing threats to Uyghur Culture, Language, and Identity" was hosted in cooperation with the Department of Central Eurasian Studies at Indiana University and the Uyghur Academy USA. 
The Uyghur genocide is at the forefront of academic discussion regarding the continuation of the Uyghurs and their way of life. The information shared during this panel by experts in Uyghur studies reiterated the urgency of stopping these atrocities, and the costs of inaction.
The webinar was moderated by Gulnisa Nazarova and panelists were Dr. Gardner Bovington, Abdulhakim Idris, Dr. Timothy Grose, Bahram Sintash and Dr. Adrian Zenz. Dr. Zenz's work on birth rate decline in East Turkistan has provided some of the most compelling evidence to date of a systematic effort to eradicate future generations of Uyghur peoples. Mr. Sintash spoke on the destruction of mosques and holy sites by the Chinese regime, and the intended goals of such cultural warfare. 
During his speech, Mr. Idris remarked that "From the Uyghur perspective gained from living through Chinese colonization and experiencing their brutality, we can accurately warn against the dangers of the CCP. Beijing uses its despotic power to determine what is wrong and right. They control our past, our present and future. They try to choose how long we live and when we die. If the world wants to know what the world looks like under Chinese domination, they can find it right now in East Turkistan."
Dr. Abliz Abdukader, the president of the Uyghur Academy USA said that "One of our most important resources to combat this genocide is our community of academics and scholars. It is critical that universities around the world be part of this community as well, and we applaud Indiana University for hosting this panel, giving voice to this great atrocity."
Executive Director of Campaign for Uyghurs Rushan Abbas said of the event, "This webinar was highly informative, and brought together the perspectives of some of the most well studied individuals in their field. We are especially proud the Center for Uyghur Studies, which has led the way in identifying how this present genocide in East Turkistan sets the stage for future human rights abuses abroad as Chinese power expands."
The realities of the Chinese regime's ongoing crimes have been shown to be catastrophic to the Uyghur people, history, and culture. Scholars like these who stand up to demand a reckoning of global proportions are fighting not only for the rights of the Uyghur people, but the rights of all people. This genocide today will set the stage for a genocide tomorrow, and both must be stopped.