CFU Press Release
For Immediate Release
November 24 2022, 12:30 PM ET
Rushan Abbas: rushan@campaignforuyghurs.org, (559) 375-3571
campaignforuyghurs.org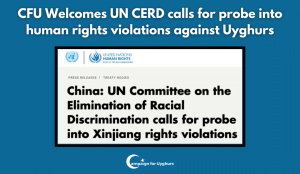 Campaign for Uyghurs (CFU) welcomes call by The UN Committee on the Elimination of Racial Discrimination (CERD) on the Chinese regime to immediately investigate all allegations of human rights violations in East Turkistan (aka the Xinjiang Uyghur Autonomous Region by China), "including those of torture, ill-treatment, sexual violence, forced labour, enforced disappearances and deaths in custody." CFU appreciates everyone who worked hard to make this happen. 
The CERD also called on China to immediately release all concentration camp detainees who have deprived of their freedom, whether in so-called "Vocational Education and Training Centres (VETCs) or other detention facilities, and to provide relatives of those detained or disappeared with detailed information about their status and well-being."
Some of the main calls The Committee further made to China were to; immediately cease all intimidation and reprisals against Uyghurs, especially on those who speak out in their defense, both domestically and abroad. To ensure Uyghurs are provided with adequate and effective remedies and reparation. To "undertake a full review of its legal framework governing national security, counter terrorism in" East Turkistan and "to ensure its full compliance with its obligations as a party to the International Convention on the Elimination of All Forms of Racial Discrimination as well as other recommendations."
Executive Director Rushan Abbas said "we are excited to see this new development. it was great to hear from the new United Nations High Commissioner for Human Rights, Mr. Volker Türk that he stands by his office's findings in their report which concluded that China could potentially be committing crimes against humanity against the Uyghur people. A change in tune from the previous human right chief which avoided upsetting China up until her last minutes in office. I trust he upholds the words he's said by holding China accountable for the Uyghur Genocide in a tangible manner."
CFU calls on member states to support today's call made by the CERD, to send a clear message to the Chinese government that a genocide cannot happen on their watch yesterday, today or tomorrow.
Support Campaign for Uyghurs' activism by making a donation.