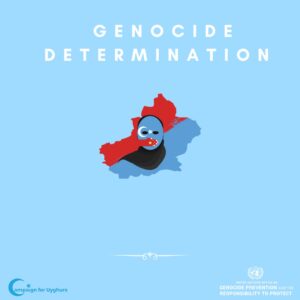 CFU Press Release
For Immediate Release
December 23, 2020, 5:00 p.m. EST
Contact: contact@campaignforuyghurs.org
www.campaignforuyghurs.org 
Campaign For Uyghurs (CFU) welcomes the decision by Secretary of State Mike Pompeo to conduct an internal review regarding a genocide determination for the atrocities against Uyghurs. CFU has remained dedicated to referring to the Chinese regime's crimes by their appropriate name for years now and applauds this step towards recognition of the gravity of what is occurring in East Turkistan. 
CFU Executive Director Rushan Abbas stated, "I regret only that our work has been so slow to result in an action for those who have suffered in concentration camps and been forced to remain silent on the death of family members due to the severe oppression of the Chinese regime and its malign influence worldwide. This important step is welcome, and may it spur the entire world to action." 
Our report, "Genocide in East Turkistan" was released in July of this year and has been distributed among government officials and grassroots groups across the world and in multiple languages. We have continued to use all avenues to push for this important determination, and we are extremely grateful to Secretary Pompeo for this important and overdue action. 
We trust that the incoming administration will continue to make stopping the genocide a priority and to follow the same strong language used on the campaign trail with strong action to confront the Chinese regime's genocidal crimes. The nature of foreign affairs necessitates complete restructuring in regards to holding China accountable, and we sincerely hope to see all of our leaders in the United States and all democratic countries rise to the occasion.