CFU Press Release
For Immediate Release
September 28, 2022 10:00 AM EDT
Contact: Rushan Abbas
+1 (559) 375-3571
rushan@campaignforuyghurs.org
www.campaignforuyghurs.org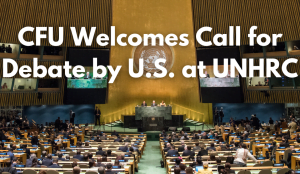 Campaign for Uyghurs (CFU) welcomes a call by the U.S. government and other like minded countries for the UN Human Rights Council to organize a debate on human rights violations and crimes against humanity against Uyghurs and other Muslim groups groups in East Turkistan. The "draft decision" is so far supported by the United States, the United Kingdom, Canada, Finland, Sweden, Denmark, Iceland and Norway. Council members will discuss the matter during the next session starting in February.
The U.S. called for a debate on the Uyghur human rights situation at next week's session of the top UN rights body focused on China. Former High Commissioner for Human Rights Michelle Bachelet's report last month, which documented widespread abuse of human rights, including torture, arbitrary arrests, forced abortions, and violations of religious freedom, led to this request.
CFU has supported Uyghurs in the diaspora protesting outside the U.N. office last week in New York and Geneva calling for action such as a resolution to be passed. Former concentration camp detainees, Tursunay Ziyawudun, Zumret Dawut and Gulzire Auelkhan went on a hunger strike in front of the White House to call attention to the recent starvation deaths in the city of Ghulja and demand international action for China's human rights violations, including genocide.
Executive Director Rushan Abbas said "We hope that this debate will lead to a resolution which could support a probe into East Turkistan, which should be supported by nations who are built on liberty, freedom and democracy. In order to live up to the values, each and every state must stand up against China's ongoing campaign of genocide against Uyghur Muslims and other Turkic groups, before such oppression reaches their own shores."
CFU echoes Bachelet's report for the Chinese regime to free the Uyghurs detained in concentration camps, prisons and forced labor facilities and end to its war on faith and war on humanity in East Turkistan and for like-minded partners to support this call at the next meeting in Geneva to bring to fruition any resolution that may come to pass.