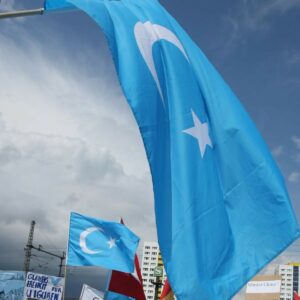 CFU Press Release
For Immediate Release
November 12, 2020, 12:00 p.m. EST
Contact: contact@campaignforuyghurs.org
www.campaignforuyghurs.org
Today, Campaign For Uyghurs marks East Turkistan National Day. This is an important day for Uyghurs to commemorate the anniversaries of the Islamic Republic of East Turkistan, established on November 12, 1933, in Kashgar, and the Republic of East Turkistan, established on November 12, 1944, in Ghulja. As the Uyghur people have suffered for decades of Chinese Communist oppression and brutalities, leading to the present active genocide, this occasion reminds the Uyghur people to hold onto hope in the midst of a battle for their very existence. 
Remembering the history and legitimacy of existence before the invasion of the colonialist invaders with the establishment of the Chinese Communist Party remains even more important as the Chinese regime at present is waging war on Uyghur history, religion, and ethnic identity. 
In commemoration of the occasion, Campaign For Uyghurs Executive Director Rushan Abbas stated that "I am filled with pride on this day when I remember the glorious history of our people, their resilience, their brilliance, their commitment to culture and morality, and their present strength in the face of such struggle and pain. I am proud to be an Uyghur, and will never give up striving for the rights and dignity of my people."
Until the rights and dignity of the Uyghur people are respected, Campaign for Uyghurs continues to remain dedicated to working for an end to the genocide and sends each and every Uyghur across the world greetings in solidarity on this special day.