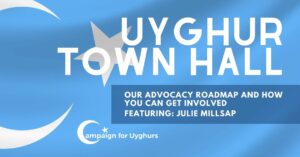 CFU Press Release
For immediate release 
May 17, 2021 5:00 p.m. EST
Campaign for Uyghurs (CFU) 
Contact: contact@campaignforuyghurs.org 
www.campaignforuyghurs.org
On May 12th, the Harris County Commissioner's Court in Texas took the extraordinary step of declaring the actions of the CCP in East Turkistan as a genocide. Campaign For Uyghurs (CFU) applauds this measure as a serious and material method of building support in local communities for Uyghurs in East Turkistan as well as the diaspora around the world. With a grassroots movement of solidarity, we are able to increase visibility of the genocide while engaging communities across the United States, and the world.
Julie Millsap, Director of Public Affairs and Advocacy at Campaign for Uyghurs, said "We here at CFU, and myself as a native Texan, are incredibly proud of Harris County and The Minaret Foundation, who worked tirelessly to see this measure passed. Having worked with them before, I have been so impressed with their dedication to advocating for the Uyghur people."
She continued by saying "Although the United States federal government has designated the ongoing atrocities in East Turkistan a genocide, there remains much work to be done in communities where awareness of the issue remains low, or obscure. Measures like this on the local level help to raise community engagement, and help forge a connection between two cultures whose distinctions and regional ties may often keep them separated. We hope other local governments see this action as a way to connect with our Uyghur brothers and sisters, and that this is the first of many such declarations."
The passage of local resolutions condemning the genocide in against Uyghurs is serves as an excellent way to bridge cultural gaps, and can be pursued by activists at any level of government. For every person and community that gets involved, it becomes more difficult for the Chinese regime to keep their genocidal actions a secret. More than a showing of solidarity, Houston's declaration is a rallying cry for citizens everywhere of every nation to stand up on whatever stage is available to them to demand justice on behalf of a people they may never have met, but who deserve their support nonetheless.
Rushan Abbas, Executive Director of Campaign for Uyghurs, declared "Right now, millions of Uyghurs are suffering from a regime's active genocidal policies that views them as a 'tumor' to be eradicated. Yet, as far away as Texas, people are demanding freedom and dignity for Uyghurs everywhere. It is encouraging to see such action at the local level. We all have a voice and role to play, and whether it is city, state, or federal government, these platforms must be used. I offer my sincere thanks to the Minaret Foundation and Harris County for their support."
Campaign For Uyghurs eagerly anticipates further action on the local and State levels, and would like to express deepest appreciation to The Minaret Foundation for the example they have set with this initiative.
To see Minaret Foundation's previous panel with CFU Executive Director, Rushan Abbas, click here.
To make a donation to continue the vital work for the Uyghur cause, please click here.
Visit The Minaret Foundation's website here.