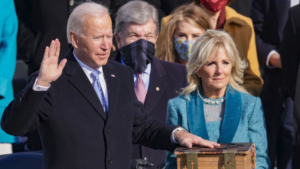 CFU Press Release
For Immediate Release
January 20, 2021 8:00 p.m. EST
Contact: contact@campaignforuyghurs.org
www.campaignforuyghurs.org
Campaign For Uyghurs (CFU) offers our heartfelt congratulations to President Biden, Vice President Harris, and the administration on this important occasion. A day like today, which marks the presidential inauguration, reminds us of the foundation that our fight for the Uyghurs is built upon: the naturally-endowed rights which all human beings possess to freedom and human dignity. 
In spite of struggles and imperfections, we must protect the system of democratic values in the United States. As Uyghurs continue to face the complete elimination of even the most basic rights as part of the Chinese regime's genocide, we are reminded of the responsibility that those who possess such freedoms should bear to their fellow man. 
At the start of a new administration, Campaign For Uyghurs commends the statements made by both President Biden's team and Secretary of State nominee Antony Blinken which confirm recognition of the Chinese regime's crimes as genocide. This commitment to the truth which goes beyond partisanship is enormously encouraging, and we eagerly anticipate seeing values translated into further action in carrying forth bold efforts to work with our allies to bring those responsible for these crimes against humanity to justice. 
Campaign For Uyghurs affirms our gratitude to be living and advocating from the platform of freedom provided in the United States. Our own pursuit of happiness as Americans cannot come at the expense of Uyghur blood. CFU wishes President Biden and his team the best as they confront the challenges before them. As leaders, they stand as stewards of democracy and freedom, and we remain supportive of all efforts to uphold the commitment to liberty and justice for all.