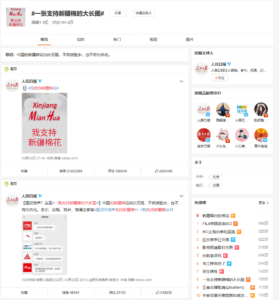 CFU Press Release
For Immediate Release
March 25, 2021 12:00 p.m. EST
Contact: contact@campaignforuyghurs.org
www.campaignforuyghurs.org
Following the coordinated sanctions against Chinese Communist Party officials and entities, companies including H&M and Nike were targeted for boycotts in China with netizens and the Communist Party Youth League posting that "spreading false rumors and boycotting Xinjiang cotton" were "wishful thinking". Some Chinese celebrities also chose to cut ties with the brands in the face of CCP pressure.
These retaliatory actions reflect a growing aggression by the Chinese Communist Party to lash out to eliminate perceived threats against it, as the pressure on Beijing increases internationally as they continue their operations of mass oppression and genocide against the Uyghurs.
As many have observed, the aggressive approach from the Beijing regime, while despicable, is a clear indication of the efficacy of efforts to raise awareness and force companies to address their own complicity.
CFU Executive Director Rushan Abbas stated that "The Chinese regime is clearly in a weak spot and is acting irrationally to not only defend their use of forced labor, but to attack anyone who prioritizes due diligence or has concern for human rights. This is in keeping with their consistent defense of their genocidal crimes."
According to the latest report by researcher Dr. Adrian Zenz, an estimated 1.6 million Uyghurs are at risk through forced labor transfer schemes, which coerce Uyghurs into state-run labor programs to pick cotton, as well as into manufacturing facilities. An Australian Strategic Policy Institute report released in 2020 implicated over 80 brands in the use of Uyghur forced labor. An estimated 20% of the world's cotton supply is from East Turkistan, tainting the garment industry supply chain. A recent CBP WRO banned all imports of cotton and tomatoes from East Turkistan, citing the high likelihood of forced labor through the paramilitary state corporation Xinjiang Production and Construction Corps.
Campaign For Uyghurs encourages brands, consumers, and government actors to act in solidarity to condemn the Chinese regime's behavior, as well as to swiftly address the issue of Uyghur forced labor. This recent development is further confirmation of the need to decouple from a genocidal regime.