CFU PRESS RELEASE FOR IMMEDIATE RELEASE
Rushan Abbas +1 (559) 375-3571, rushan@campaignforuyghurs.org
A 300+ page report is released on the Chinese Communist Party's human rights abuses and recommendations for the U.S. government.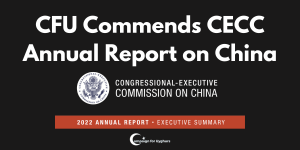 [Washington D.C. Nov 18, 2022] – Campaign for Uyghurs (CFU) commends the Congressional-Executive Commission on China (CECC) for releasing a 364-page Annual Report on November 14, 2022. The report highlights the worsening human rights violations in the Xinjiang Uyghur Autonomous Region (XUAR), technology-enhanced authoritarianism in China at large, and a list of recommendations in reforming China-United States relations.
When detailing the PRC's acts of transnational repression, the report highlights the case of Dr. Gulshan Abbas, sister of CFU Executive Director and Founder Rushan Abbas, who has been imprisoned in retaliation for Abbas's activism since September 2018. Gulshan Abbas is one of many Uyghurs who have disappeared as an attempt to silence dissidents abroad.
Other points mentioned in the report include: The PRC's use of the criminal justice system and "psychiatric facilities" to detain dissidents, the ideological indoctrination of XI Jinping's "cult of personality" leading up to the 20th party Congress; the ongoing genocide, rape, forced abortions, forced sterilizations and forced labor of the Uyghur people in East Turkistan; the dissolution of Hong Kong's democratic freedoms and civil society, and pervasive mass surveillance systems used to enforce the "zero-COVID" policy, restrictions on religious freedom, and censorship of online activities and speech.
"Congress and the administration must take notice of this report and the escalating conditions that millions of Uyghurs, and hundreds of millions of Han Chinese citizens are enduring," said CFU Executive Director Rushan Abbas. "Victims of this genocide, like my sister Gulshan Abbas, must be remembered as the real cost of not confronting the Chinese regime's actions. The CCP must be held accountable for their genocide and crimes against humanity. They have acted with impunity for too long."
The recommendations made in the report are to increase the capacity of the FBI and State Department to address PRC efforts to intimidate the Uyghur diaspora, sanction individuals and companies complicit in strengthening the PRC's mass surveillance capabilities, forced labor, forced sterilizations/abortions in the XUAR, and the prosecution of pro-democracy advocates in Hong Kong, and creating immigration pathways for Hong Kong residents and Uyghurs.
CFU urges multilateral cooperation with U.S. allies to enact joint sanctions and end the presence of Uyghur forced labor goods in their borders. Congress should work together to pass legislation like the Uyghur Human Rights Protection Actand sanction CCP officials responsible for this genocide.