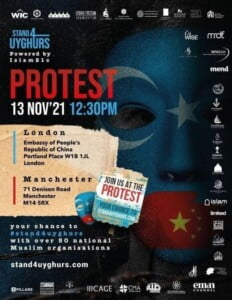 CFU Press Release
For Immediate Release
November 12th, 2021, 3:00 pm EST
Contact: contact@campaignforuyghurs.org
www.campaignforuyghurs.org
On the 13th of November, a day of International Protest led by Muslim leaders and over 50 Muslim organizations will occur in the United Kingdom to bring global attention to the continuing and deepening Uyghur genocide. Campaign for Uyghurs (CFU) supports this action and expresses our gratitude for the solidarity of all Muslim brothers and sisters who will participate. Across the UK, including in London and Manchester, groups will gather at the Chinese embassy and consulates to demand an end to the genocide being conducted by the Chinese Communist Party against the Uyghur people. 
Earlier this year, CFU visited London to take part in the Uyghur Tribunal alongside Mr. Abdulhakim Idris, Inspector General of the World Uyghur Congress. While there, Executive Director Rushan Abbas met with Uyghur activists and political figures to strengthen the bond between the larger Uyghur diaspora and those living in England. Mr. Idris spoke to the Muslim community in the UK, exposing the details of the CCP's war on Islam and calling on Muslim leaders to take tangible actions against the CCP's attacks. He made clear that these are faith-based issues, and as such are the responsibility of every Muslim. He also helped establish the UK Muslim-Uyghur Coalition. Following that visit, Mr. Idris became actively involved in the planning and organizing of the July 1st protest in the UK. CFU takes pride in cultivating a global community of Uyghur allies around the world, and in coordinating with Mr. Idris' efforts on this campaign. This show of collective force will add to the chorus of demands that have taken place this year, especially in the context of the Tribunal. 
In preparation for this event, Abdulhakim Idris said "This movement, which we are proud to have worked on with our Muslim brothers and sisters, is one that demands solidarity. We are thrilled to see the development of a unified diaspora that can organize events like this one. It was encouraging this year to visit the United Kingdom and bear witness to the support that exists there in the Muslim community. Tomorrow, that support will be made manifestly clear! It is my hope we that we will see thousands of our Muslim Ummah speaking out to protect their faith from the CCP's war on Islam!" 
Campaign for Uyghurs encourages actions like this and any other that brings attention to this dire cause. CFU implores any who are able to attend the protest and to support the work being done by the organizers at Stand4Uyghurs. It is the work of thousands of activists that make actions like this possible, and it is only with the support of thousands more that they can be successful.