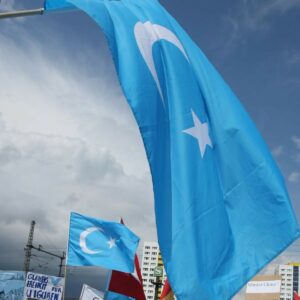 March 22, 2021 4:30PM EDT
Immediate Release
Campaign for Uyghurs
Campaign for Uyghurs commends the joint action taken by Canada, the European Union, the United Kingdom, and the United States today in enacting sanctions against Communist Party officials and entities that are responsible for the ongoing genocide against the Uyghur people of East Turkistan today. These sanctions are a show of solidarity between these allied nations and reflect a rightfully tough stance on the regime and its actions.
The sanctions jointly enacted target four individuals and one entity: Chen Mingguo, the director of Xinjiang Public Security Bureau. Wang Mingshan, secretary of the political and legal affairs committee in Xinjiang and former director of the Xinjiang Public Security Bureau. Zhu Hailun, former deputy party secretary of the Xinjiang Uyghur Autonomous Region. Wang Junzheng, secretary of the party committee of the Xinjiang Production and Construction Corps (XPCC). The sanctions also targeted the XPCC Public Security Bureau.
The sanctioned individuals and entities are high level officials within the regime's authoritarian presence in East Turkistan. The XPCC is notorious as a paramilitary organization that has been a major benefactor of Uyghur forced labour. These Magnitsky-style sanctions will effectively freeze the assets of these officials and of the XPCC PSB abroad, and prevent them from travelling or doing business with the sanctioning nations.
In a media statement echoed by the counterparts of the joint action, United States Secretary of State Antony Blinken said, "As part of their actions today, our partners also sanctioned human rights abusers in connection with the atrocities occurring in Xinjiang and other countries.  These actions demonstrate our ongoing commitment to working multilaterally to advance respect for human rights and shining a light on those in the PRC government and CCP responsible for these atrocities."
Rushan Abbas, Founder & Executive Director of CFU, said "these joint sanctions against regime officials are a critical first step and a sign that allied cooperation to end the ongoing genocide against the Uyghurs is mounting. However, we must not stop here. Sanctions must be more widely applied, and there must be a continued push to punish Beijing financially and in the international community. Let us not forget that this is a genocidal regime."
CFU hopes that this is a sign of continued cooperation by allied nations to counter the regime's ongoing genocide and to see continued pressure against Beijing. This is an international tragedy that has been unaddressed for too long, and must be dealt with seriously and swiftly as the lives and identity of millions of Uyghurs are at risk.