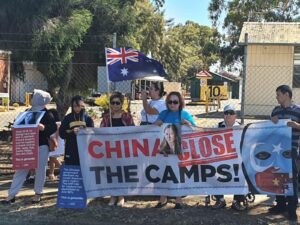 As conversation on the developments in addressing the Uyghur atrocities continues, much attention has been paid to atrocity determination in the United States. Additionally, much groundwork for larger legislative action in Australia has been laid by the Australian Uyghur Tangritagh Women's Association (AUTWA). 
AUTWA was founded to promote multiculturalism, social cohesion, and harmony between the Uyghur and Turkic women and the Australian community at large by organizing various events, activities, programs, training, mentoring, and advocacy.
Recently, AUTWA organized groups of ladies to protest outside of the Chinese consulate in Adelaide each Friday. These protests have renewed attention to the issue of the Uyghur genocide and the priority that it should be for Australia, and have created media attention. 
As the Australian government continues to experience tension with the Chinese regime, the issue of Uyghur forced labor must be raised and urgently addressed. Campaign For Uyghurs (CFU) is very grateful for the successful advocacy work being lead by AUTWA and has been working with the organization to support their efforts to solicit submissions to the Australian parliament regarding a customs amendment to address the issue of products made with Uyghur slavery entering Australia.  
Today is International Holocaust Remembrance Day. The civilized countries of the world must demonstrate integrity and take concrete action to address the horrors of the genocide before being compromised by empty words. Supporting and sending submissions to the Australian Parliament in order to address Australian complicity in slavery is one of the very tangible actions that must be taken. 
We encourage other organizations and qualified individuals to make these submissions in support of the amendment by February 5. For more information, please visit here.