In response to the participation of a University of Manitoba faculty member in a panel denying the Uyghur genocide and defending the Chinese Communist Party, Campaign For Uyghurs initiated a letter on behalf of Uyghur organizations across the globe. You can read the letter below.
If you would like to to help us continue in our mission of advocating for the human rights & democratic freedoms of Uyghurs & other Turkic peoples facing genocide by the Chinese regime, please click here to make a donation.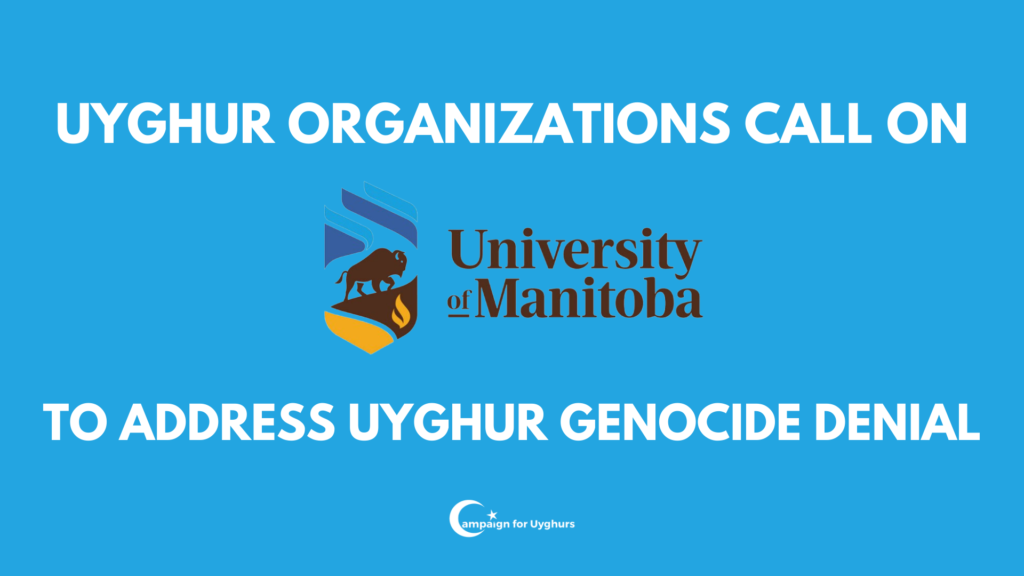 University of Manitoba
Winnipeg, MB, Canada R3T 2N2
May 5, 2021
To Whom It May Concern:
We are writing as representatives of the Uyghur community who are working to end the active genocide of the Uyghur people being perpetuated by the Chinese Communist Party. You can imagine our horror when your faculty member, a Ms. Radhika Desai, moderated a panel held on March 19, 2021 which was sponsored by the China-Canada Council for Cooperation and Development; the Hamilton Coalition to Stop the War, Just Peace Advocates; and the Canadian Peace Congress entitled "Genocide in Xinjiang?". The panel featured remarks from known defenders of the Chinese Communist Party and Uyghur genocide denialists, as well as from China's Consul General in Calgary.
What is most disappointing and shocking for us was that the event organizers disabled the chat and question function for the participants and only allowed the genocide apologists and CCP propagandists to spread disinformation and false narratives about the brutal tragedies that Uyghurs are facing. This type of event cannot be presented as discourse and is against the very spirit of academia.
The panel lacked any representation from the Uyghur ethnic group being discussed, and as an academic institution, it's appalling that any faculty member would feel justified participating in a panel whitewashing genocide and downplaying the voices of an ethnic group. That is a practice normally seen inside of China and within the Chinese regime's state-run universities.
As the Chinese Communist Party's brutal repression against the Uyghurs is being rightfully recognized as genocide and sanctioned by multiple countries, including Canada, those who would engage in genocide denialism should face consequences.
We hope better for your students, and urge the university to examine the implications of these types of actions coming from members of your faculty. It is imperative for the sake of educational integrity that a university respect academic freedom and prevent the compromising of ethics and principles of democracy.
Yours Sincerely,
Campaign For Uyghurs, Rushan Abbas
World Uyghur Congress, Dolkun Isa
Alberta Uyghur Association, Ms. Mukerrem Qurban
Australian Uyghur Association, Mr. Memet Obul
Australian Uyghur Tangritagh Women's Association, Ms. Ramile Chanisheff
Austria Uyghur Association, Mr. Mewlan
Belgium Uyghur Association, Mr. Abdullam Imirov
Blue Moon Charity Association, Mr. Nimetullah Qarim
Boston Uyghur Association, Dr. Maya Mitalipova
Dutch Uyghur Human Rights Foundation, Mr. Ablet Bakir
Dutch Uyghur, Tibet, Mongol International Solidarity, Mr. Behtiyar Nasir
East Turkestan Information Center, Mr. Abdujelil Qaraqash
East Turkestan Union in Europe, Mr. Asgar Can
East Turkistan Human Rights Watch Organisation, Mr. Nuriddin Izbasan
East Turkistan Association of Canada, Mr. Tuyghun Abduweli
East Turkistan Association of Immigrants, Mr. Ablet Udun Konya
East Turkistan Australian Association, Mr. Nurmuhammet Türkistani
East Turkistan Foundation, Mr. Muhitdin Januyghur
East Turkistan Information and Research Center, Mr. A.Waris Uyghur
East Turkistan Sport and Development Association, Mr. Tahirjan Turaq Kökbayraq
East Turkistan Traders Association, Mr. Ehmetjan Kucha
East Turkistan Youth Union, Mr. Ilhan Turanli
Euroasian Uyghur Academy, Prof.Dr. Alimjan Tiliwaldi
European East Turkistan Educational Association, Mr. Abdurahman Qarim
European Uyghur Institute, Ms. Dilnur Reyhan
Finland Uyghur Association, Mr. Obulqasim Seyit
Ili Meshrep Development and Service Foundation, Mr. Jüret
Institute of China Studies, Dr.Perhat Qurban Tengritaghli
International Uyghur Writers Association, Mr. Qeyser Abdurusul
Isa Yusuf Alptekin Foundation, Dr.Ömer Qul
Japan Uyghur Association, Mr. Abdukerim Abdurahman
Justice for Uyghurs, Dr.Abdushükür Abdureshit
Kazakhstan Uyghur National Association, Mr. Hakimjan Memetov
Kutatgu Bilig Institute, Dr.Ablet Semet
Kyrgyzstan Uyghur Association "Ittipaq", Mr. Esqer Timuchin Oghli
Movement of the New Generation, Mr. Abduselam Teklimakani
Norwegian Uyghur Committee, Mr. Bahtiyar Ömer
Nozugum Association, Ms. Münewer xanim
Research and Education Institution, Mr. Ablet Hajim Uchqun
Satuq Bughrahan Educational and Cultural Foundation, Mr. Abdulhaliq Uyghur
Shukr Foundation, Mr. Hikmat Hasanoff
Swedish Uyghur Solidarity Foundation, Mr. Ehmetjan Tursun
Swiss Uyghur Association, Mr. Endili Karahanli
Teklimakan Uyghur Publication Center, Mr. Abdujelil Turan
The Muslim Scholars Union of East Turkistan, Mr. Atawullah Shahyari
The Union of Non-governmental Organizations of East Turkistan, Mr. Hidayitullah Oghuzhan
Turkey's Education and Delevopment Foundation, Mr. Hebibullah Küseni
Umer Uyghur Trust, Mr. Ömerhan
Uyghur Academy Australia, Dr.Ilhamjan Sabit
Uyghur Academy Turkey, Dr.Alimjan Inayet
Uyghur Academy USA, Dr.Abliz Abduqadir
Uyghur Aid, Mr. Halmurat Uyghur
Uyghur American Association, Mr. Kuzzat Altay
Uyghur Association in Denmark, Mr. Abduhelil
Uyghur Association in France, Mr. Alimjan Ömer
Uyghur Association of Victoria, Mr. Alim Osman
Uyghur Cultural and Educational Union in Germany, Ms. Helime Abdukerim
Uyghur Cultural Center in Finland, Dr.Muhammed Ali
Uyghur Cultural Center in Frankfurt, Mr. Küresh Atahan
Uyghur Cultural Center in Kazakhstan, Mr. Shahimerdan
Uyghur Cultural Center of Uzbekistan, Ms. Helime
Uyghur Democracy and Human Rights Center, Mr. Turghunjan Alawuddun
Uyghur Educational Association, Mr. Nijat Turghun
Uyghur Human Rights Organisation, Mr. Tursun Islam
Uyghur Human Rights Project, Mr. Ömer Qanat
Uyghur Mother Language Education Center in Norway, Mr. Semet Abla
Uyghur Projects Foundation, Dr.Erkin Sidiq
Uyghur Research Center in Europe, Mr. Ümit Agahi
Uyghur Research Institute, Dr. Erkin Ekrem
Uyghur Rights Advocacy Project, Mr. Memet Tohti
Uyghur Solidarity UK, Mr. Kerem Zahir
Uyghur Transitional Justice Database, Mr. Bahtiyar Ömer
Uyghur Youth Union of Kazakhstan, Mr. Rustem Qayriev
World Uyghur Congress Foundation, Mr. Abdureshit Abdulhamit