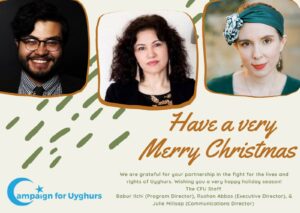 As 2020 draws to a close, the staff of Campaign For Uyghurs wishes to thank you for your continuing support of our work to advocate for the human rights and democratic freedoms of Uyghurs & other Turkic peoples who are oppressed by the Chinese regime.
2020 was an eventful year for all, and in spite of the difficulties posed by the pandemic, CFU was pleased by the impact of our hard work this year. We celebrated the passage of the Uyghur Human Rights Policy Act, continued to work for the passage of the Uyghur Forced Labor Prevention Act, and have continued to remain active in supporting the work of the Coalition to End Uyghur Forced Labor. Executive Director Rushan Abbas testified on Uyghur forced labor for the House Ways and Means Committee, and the following day the UFLPA was pushed to the House for a vote, passing almost unanimously.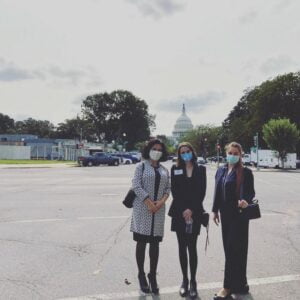 We continued to work closely with the administration, State Department, and Congress to ensure that the United States addresses these atrocities. As we have expanded our network abroad, we will continue to serve as a resource and driving force as Europe, Canada, Australia, and other nations also seek to develop legislation on these issues.
Additionally, we have been at the forefront of efforts to push for atrocity determination regarding the genocide of the Uyghurs. We published our report, "Genocide in East Turkistan", in July of this year and have distributed it widely amongst government officials and civil society groups, and in multiple languages.
CFU remained extremely active via online platforms this year, participating in many webinars and advocacy events and speaking with audiences which included students, grassroots organizations, holocaust museums around the U.S., and Amnesty International groups as well as organizing panels with government officials, scholars, and prominent activists.
We have vastly expanded our efforts to empower Uyghur women and youth in the diaspora to become involved in advocacy. Platforms were provided for many of these individuals to share their stories via our platforms and panels. Most recently, we have partnered with dedicated volunteers to provide English language classes to Uyghur youth in Turkey, as well as continuing our advocacy training with potential grassroots activists across the world. We will continue to maintain our efforts to increase civic society awareness in Muslim-majority countries and our work in Turkey is an important part of this.
Just last week, the facility that will become Hope House has been attained, and we are working to give it the TLC needed to make this place a home for struggling homeless Uyghur youth! Many of these young people came abroad and were left stranded in Turkey as refugees, cut off financially when parents were thrown into the concentration camps. (You can read more about their heartbreaking circumstances here). This facility will also provide a place to give further vocational and advocacy training.
This Christmas season, we are grateful for the opportunity to make life a bit brighter for these struggling young people. Together, we can fight the horrors inflicted by the Chinese regime in tangible ways.
If you would like to designate your end-of-year giving for this project, please click here.
On behalf of the staff at Campaign For Uyghurs, we wish you a very happy holiday season!
  The picture of the facility we are renting for the Uyghur youth