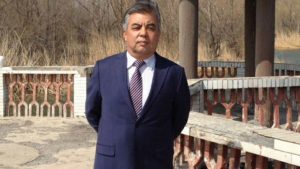 Campaign for Uyghurs remembers the case of Uyghur historian and publisher Iminjan Seydin on his 55th birthday, today. We call on China's government to release Iminjan, and to stop their genocide of the Uyghur people! As one of the hundreds and thousands of Uyghur intellectuals and millions of innocent Uyghurs, Mr. Iminjan Seydin is a victim of China's genocide against the Uyghurs. Today, the entire Uyghur population is facing persecution and arbitrary detention. Famous or well-known Uyghurs in the publics' eye, and those with a voice, have been silenced with the purpose of completely eliminating anyone who might produce, extend or defend Uyghur ideology and values. Uyghur elites, philanthropists, shop-owners, intellectuals, professors, writers, journalists, doctors, academics, actors-entertainers are the main target.
In an article published by The Seattle Times, his daughter, Samira Imin testified about his sham trial and the fact that even as an Uyghur who is not particularly religious, he was also targeted, as scholars and leaders have often been the first victims of the Chinese Communist Party.
"The cause (of his arrest), she was told, was apparently his involvement in publishing a colleague's book on Arabic rhetoric—a book that had been on the market for two years and had passed the government's own screening." The article raised an even broader yet equally important issue. "…what more can her people do to fit into broader Chinese society, Imin asked, when most Chinese people themselves don't see the humanity of Uighur neighbors—even model citizens like her father?"
We call on the international community to hold China accountable and act with integrity to stop this unprecedented crime of the 21st century!