---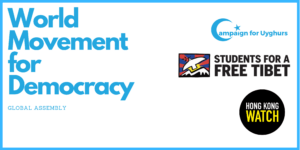 CFU Press Release
For Immediate Release
July 6th, 2021 4:00 PM EDT
Contact: contact@campaignforuyghurs.org
www.campaignforuyghurs.org
Campaign for Uyghurs  (CFU) is honored to receive the World Movement for Democracy's Democracy Courage Tribute, alongside Students for a Free Tibet and Hong Kong Watch on Thursday, July 8th. Together, the work being done between these organizations serves to advocate for those communities being brutally oppressed by the Chinese regime who are facing genocide, crimes against humanity, and anti-democratic subjugation. CFU is grateful to the National Endowment for Democracy for its recognition of the work being done to build cross-movement solidarity, and for recognizing our common struggle.
CFU Executive Director Rushan Abbas said "We are so thankful to be counted among such strong and powerful allies in receiving this award. The work being done in Hong Kong and Tibet is part of the larger struggle for human rights that defines the fight against Genocide in East Turkistan. It is of utmost importance that these relationships be maintained and strengthened, as we share a common enemy in the CCP, whose genocidal policies today are equivalent to waging a war against all humanity, and tomorrow may reach beyond the Uyghurs to affect more and more vulnerable peoples worldwide." She continues, "We are watching in real-time what it looks like for people to have their voices suppressed to the point where there can be no resistance to brutality. Now in East Turkistan, there are millions of Uyghurs who are living under a regime that does not afford them their basic democratic rights, and actively seeks to dehumanize them. As we look to strengthen the concept of democracy globally, we must keep in our hearts the real consequences of its eradication, which are playing out now among the Uyghurs."
The virtual awards ceremony will be held on Thursday, July 8th, and we encourage those who wish to view this important moment to register virtually. The program will also highlight key speakers who are fighting to advance democratic goals globally, including CFU's own Rushan Abbas. The Uyghurs have seen first-hand the degradation of rights in their homeland, under Chinese rule. Now is the time to recommit ourselves to the principles of democracy, and to demand a global system that respects human rights as universal. 
CFU thanks its team, board of directors, and the advisory board for their tireless work that has made this accolade possible. CFU also extends heartfelt support and gratitude to all the activists across the coalition to defend democracy who have bravely stood up for the conscience of humanity at this critical time. The fight to end genocide in East Turkistan is a fight that implicates every man, woman, and child on earth. To see such excellent organizations receive a platform and recognition alongside CFU is a beacon of hope that there can be a brighter future ahead.