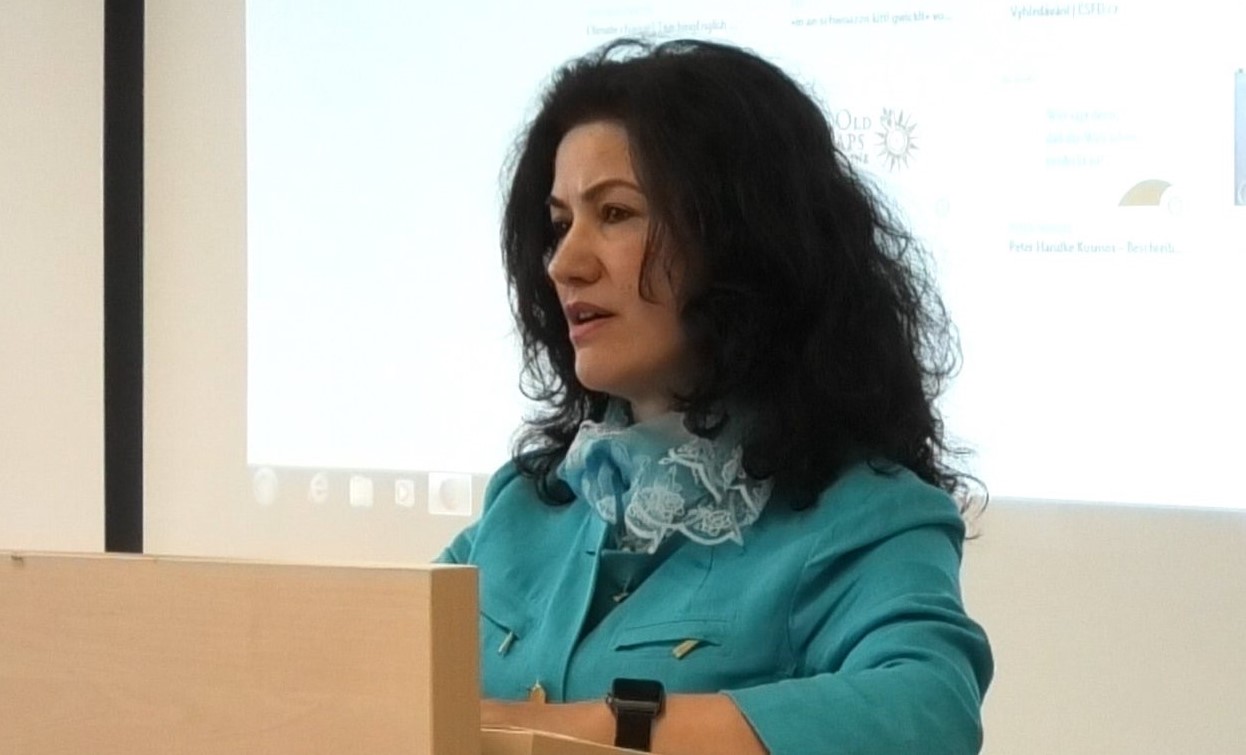 Rushan Abbas started her activism work while she was a student, organizing and leading in the pro-democracy demonstrations at Xinjiang University in 1985 and 1988. Since her arrival in the United States in 1989, Ms. Abbas has been an ardent campaigner for the human rights of the Uyghur people.  
She has worked closely with members of Congress since the 1990s. Ms. Abbas was a co-founder of the California-based Uyghur Overseas Student and Scholars Association in 1993, the first such Uyghur association in the United States, and served as that organization's first Vice-President. The charter co-drafted by Ms. Abbas later served as the blueprint and played an important role in the establishment of the Uyghur American Association (UAA) in 1998. Ms. Abbas was subsequently elected Vice President of UAA for two terms. When Radio Free Asia launched its Uyghur service in 1998, Ms. Abbas was the first Uyghur reporter broadcasting daily to the Uyghur region.
From 2002 till 2013, Ms. Abbas translated for the 22 Uyghurs who were being held in Guantanamo and worked closely with the US Department of Defense, Department of Justice, State Department, and US administration with their efforts on resettlement of 22 Uyghurs from Guantanamo Bay to Albania, Sweden, Bermuda, Palau, Switzerland, El-Salvador, and Slovenia.
After working for more than 20 years in global business development, international relations, and government affairs throughout the Middle East, Africa, CIS regions, Europe, Asia, Australia, North America, and Latin America, now Rushan Abbas is a full-time activist working to advocate for Uyghur people while they are facing genocide by the Chinese regime.
In 2017, Rushan Abbas founded the Campaign for Uyghurs to advocate and promote human rights and democratic freedoms for Uyghurs, and mobilize the international community to act to stop the human rights atrocity in East Turkistan. Under her organization, Ms. Abbas introduced and led the "One Voice One Step" movement and successfully organized a demonstration on March 15th, 2018, in 14 countries and 18 cities on the same day to protest China's detention of millions of Uyghurs in concentration camps.
Ms. Abbas works with groups in the United States, Canada, The UK, and other parts of Europe, Australia, Japan, and Turkey to highlight the Uyghur cause and in support of empowering Uyghur women and youth for activism.
In July 2020, Ms. Abbas' organization published the report "Genocide in East Turkistan" which laid out the ways that the actions of the Chinese regime met every condition of genocide laid out in the Convention on the Prevention and Punishment of Genocide. Ms. Abbas first raised the case of Uyghurs as undergoing active genocide in May of 2019 while delivering speeches at the events hosted by the U.S. Embassies in Prague and Vienna and remained a vocal advocate for declaring the CCP's crimes as such since then.
In February 2022, Campaign For Uyghurs was nominated for a Nobel Peace Prize for activism and advocacy done to promote the Uyghur cause for freedom. Campaign For Uyghurs was nominated by US House of Representatives members Tom Suozzi and Chris Smith, who co-chair the Uyghur Caucus.
Ms. Abbas frequently briefs US lawmakers and officials on the human rights situation in East Turkistan and testifies at the United States senate and congress on the Chinese regime's crimes against humanity. She regularly appears on media outlets to advocate for the Uyghur cause and gives public speeches, having spoken for audiences at Holocaust museums, universities, U.S. embassies, grassroots groups, and more.
Ms. Abbas also serves as the Advisory Board Chair of the Axel Springer Freedom Foundation and a member of the Inter-parliamentary Task Force on Human Trafficking.
Ms. Abbas has three children and currently resides in Falls Church, Virginia with her husband, Executive Director of the Center For Uyghur Studies, Abdulhakim Idris.
Some of Rushan Abbas' writings, speeches, and interviews:
Washington Post Opinion: China seized my sister. Biden must fight for her and all enslaved Uighurs.
USA Today: I've fought China's slow-motion genocide of Uighur Muslims. Now, my family are victims.
Washington Post Opinion: My aunt and sister in China have vanished. Are they being punished for my activism?
CNN: Uyghur-American activist seeks answers about China's Muslim camps
RT America: 'Horrendous Atrocity'-Uighurs claim Ethnic Cleansing in China
New York Times: Uighur Americans Speak Against China's Internment Camps. Their Relatives Disappear